General Tso's Chicken
Chinese-American batter-fried seitan & vegetables
serves 2 to 3 / time 45 min
recipe from The Lotus and the Artichoke – WORLD 2.0
(Rezept auf Deutsch unten)
batter-fried seitan:
7 oz (200 g) seitan drained, chopped in chunks
1/3 cup (45 g) flour (all-purpose / type 550)
2 Tbs rice flour
1 Tbs corn starch
1/4 tsp baking powder
1/2 tsp salt
1/3 cup (80 ml) water more as needed
vegetable oil for frying
Combine flour, rice flour, corn starch, baking powder, and salt in a large bowl. Mix in water (using slightly more if needed) to make a smooth, thick batter. Let sit 20 min.
Heat oil about 2 in (5 cm) deep in a medium pot on medium high heat. Oil is hot enough when a drop of batter sizzles and surfaces immediately.
Add chopped seitan to batter and mix to coat the pieces.
Carefully slip several pieces of battered seitan into the hot oil. Do not crowd the oil or the temperature will drop and they'll soak up oil instead of frying properly. Fry pieces until deep golden brown, turning regularly with a slotted spoon, 3–5 min. As they finish, drain pieces and transfer to a large plate. Wait 30–40 sec between batches for the oil to heat back up. Continue for all pieces. 
vegetables & sauce:
2 cups (170 g) broccoli chopped in small florets
1 medium (80 g) carrot peeled, sliced
2 cloves garlic finely chopped
1 in (3 cm) fresh ginger finely chopped
1 red chili seeded, chopped optional
1 Tbs vegetable oil
2 tsp sesame seeds for garnish
1/4 cup (60 ml) soy sauce
1 Tbs hoisin sauce
1 Tbs rice vinegar
1 Tbs lemon juice
2 Tbs corn starch
3 Tbs sugar
1 1/2 cups (360 ml) water
In a bowl, whisk soy sauce, hoisin sauce, rice vinegar, lemon juice, corn starch, sugar, and water.
Heat oil in large pot or wok on medium heat. Add chopped garlic, ginger, and red chili. Fry, stirring constantly, until richly aromatic, 2–3 min.
Add chopped broccoli and carrot. Fry while stirring until vegetables start to soften, 4–5 min.
Stir in whisked sauce. Simmer until sauce thickens, stirring frequently, another 2–5 min.
Carefully stir in batter-fried seitan pieces. Remove from heat. Cover until ready to serve.
Garnish with sesame seeds and serve with jasmine or brown rice.
Variations:
Pineapple: Add 3/4 cup (100 g) chopped fresh pineapple along with broccoli. Cauliflower: Use chopped cauliflower in place of seitan. Vedic Indian: Substitute an additional 1 Tbs lemon juice for vinegar, and substitute 1 tsp black mustard seeds, 1/2 tsp ground coriander, and 1/4 tsp asafoetida (hing) for chopped onion and garlic.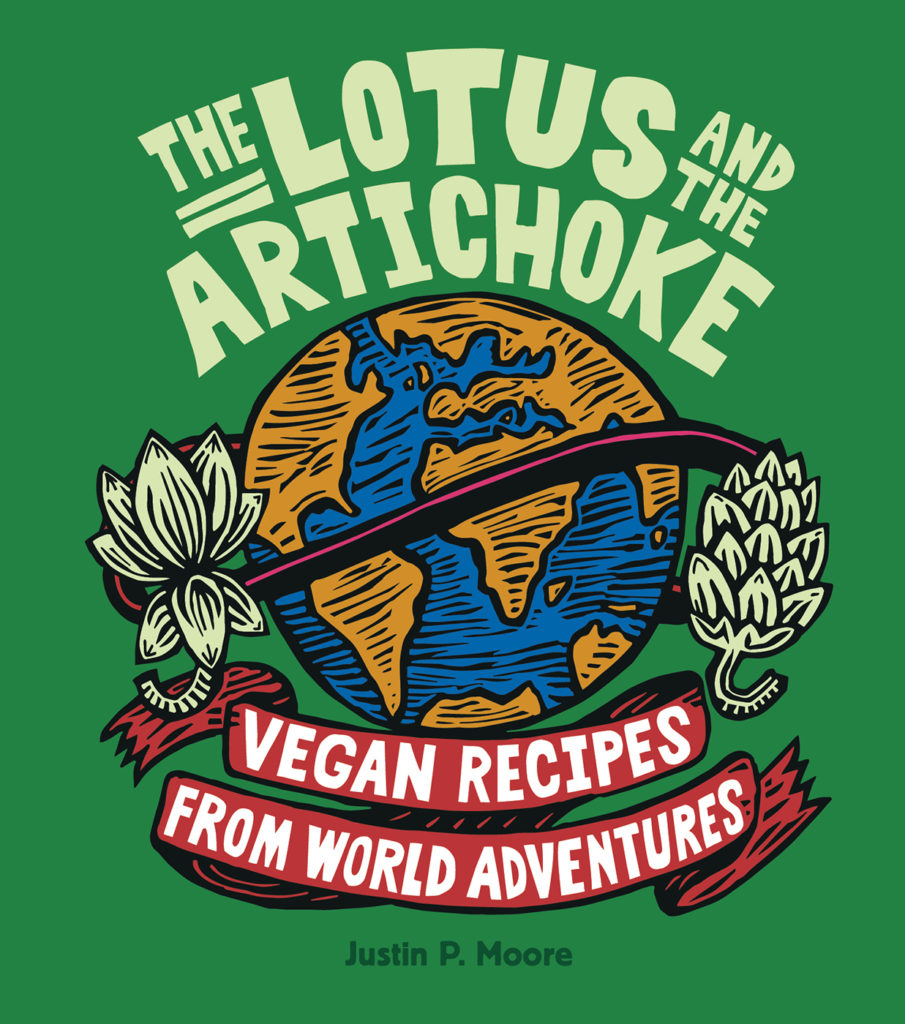 General Tsos Chicken
Chinesisch-amerikanischer frittierter Seitan & Gemüse
2 bis 3 Portionen / Dauer 45 Min.
Rezept aus The Lotus and the Artichoke – WORLD 2.0
frittierter Seitan:
200 g Seitan abgegossen, gehackt
1/3 Tasse (45 g) Mehl (Type 550)
2 EL Reismehl
1 EL Speisestärke
1/4 TL Backpulver
1/2 TL Salz
1/3 Tasse (80 ml) Wasser bei Bedarf mehr
Pflanzenöl zum Frittieren
Mehl, Reismehl, Speisestärke, Backpulver und Salz in einer Rührschüssel vermischen. Mit 1/3 Tasse (80 ml) Wasser (bei Bedarf etwas mehr) zu einem glatten, dicken Teig verrühren. 20 Min. ruhen lassen.
Öl 5 cm hoch in einem mittelgroßen Topf auf mittlerer Flamme erhitzen. Das Öl ist heiß genug, wenn eine kleine Menge Teig nach dem Hineingeben sofort brutzelnd an die Oberfläche steigt.
Seitanstücke in die Schüssel geben und mit dem Teig überziehen.
Mehrere Seitanstücke vorsichtig ins heiße Öl gleiten lassen. Topf nicht überladen, da sonst die Temperatur sinkt und der Seitan sich mit Öl vollsaugt, statt zu frittieren. Seitanstücke in mehreren Durchgängen je 3 bis 5 Min. unter regelmäßigem Wenden goldbraun frittieren. Fertige Stücke mit einem Schaumlöffel herausheben, abtropfen lassen und auf einen großen Teller legen. Zwischen den Durchgängen 30 bis 40 Sek. warten, bis das Öl wieder heiß ist. Restliche Stücke frittieren.
Gemüse & Soße:
2 Tassen (170 g) Brokkoli in kleine Röschen gehackt
1 mittelgroße (80 g) Möhre in Scheiben geschnitten
2 Knoblauchzehen fein gehackt
3 cm frischer Ingwer fein gehackt
1 rote Chilischote entsamt, gehacktwenn gewünscht
1 EL Pflanzenöl
2 TL Sesamsamen zum Garnieren
1/4 Tasse (60 ml) Sojasoße
1 EL Hoisin-Soße
1 EL Reisessig
1 EL Zitronensaft
2 EL Speisestärke
3 EL Zucker
1 1/2 Tassen (360 ml) Wasser
Soja– und Hoisin-Soße, Reisessig, Zitronensaft, Stärke, Zucker und Wasser in einer Schüssel verrühren.
1 EL Öl in einem großen Topf oder Wok auf mittlerer Flamme erhitzen. Knoblauch, Ingwer, und rote Chilischote hineingeben und 2 bis 3 Min. unter ständigem Rühren anbraten, bis es aromatisch duftet.
Brokkoli und Möhre hinzufügen und 4 bis 5 Min. unter Rühren braten, bis das Gemüse weich wird.
Soße einrühren und 2 bis 5 Min. unter regelmäßigem Rühren köcheln, bis sie eindickt.
Vorsichtig die frittierten Seitanstücke unterheben, vom Herd nehmen und bis zum Servieren abgedeckt ziehen lassen.
Mit Sesamsamen garnieren und mit Jasmin- oder Naturreis servieren.
Variationen:
Ananas: Eine 3/4 Tasse (100 g) frische gehackte Ananas zusammen mit dem Brokkoli hinzufügen. Blumenkohl: Statt Seitan gehackten Blumenkohl verwenden. Vedisch-indisch: Essig mit 1 weiterem EL Zitronensaft ersetzen und anstelle von Zwiebel und Knoblauch 1 TL schwarze Senfsamen, 1/2 TL gemahlenen Koriander und 1/4 TL Asafoetida (Asant) verwenden.