Last Thursday I found some great posts from travel blogger friends who also visited Morocco.
I started with Jaime's Breakaway Backpacker post on the beautiful mountain town of Chefchouen, with breathtaking photos of the blue town. Soon, I found a similar post by Robert of Leave Your Daily Hell, and this post on Travels of Adam. One thing you'll probably notice: travelers have mixed experiences in Morocco. It's an intense place. You're sure to find great food, meet incredible people, and see some fantastic sights. However, it's also extremely likely some of the food, people, and places will provide material for great travel stories of misadventure and malady. That's Morocco!
Isn't it cool to read others' blogs about places you've been, or dream of seeing yourself? For me, it's a great way to relive and revive travel memories, and totally inspiring for future travel adventures.
All these awesome photos and stories got me thinking about my own travels in Morocco and the food I had there. It's true: vegetarian and vegan options in Morocco are often limited to varieties of vegetable tagine and vegetable cous-cous. After eating these two dishes twice a day you might start to get a little bored, as I did, but you never have to look too far for an excellent, unforgettable veggie cous-cous or tagine.
For me, it was on one of my last nights in sleepy, chilled-out Chefchouen at a somewhat fancy restaurant decorated wonderfully with tiles, flowers, and plants. The night air was cool and refreshing, the view of the town and surrounding hills and valley: majestic. I can still smell and taste the fluffy cous-cous, the soft chickpeas bathed in a sweet and savoury stew of vegetables, and the delicate flavors of the dried fruits and nuts accenting the dish. In fact, nearly all of my kitchen adventures with Moroccan cuisine since then have been attempts to recreate the experience of that heavenly meal.
This recipe below for delicious, vegan Moroccan Stuffed Squash can be used with just about any kind of big squash, or made on it's own as a sort of vegetable cous-cous dish or vegetable tagine. Just increase the water or stock to make more of a vegan Moroccan stew (tagine) without stuffing and roasting anything. It's your call if you want to use the squash interior you remove in the stuff itself. With larger squash, they're often already partly hollow or the insides aren't always that tasty anyway. Experiment!
Marokkanischer gefüllter Kürbis – mit Couscous, getrockneten Früchten und Nüssen
4 Portionen / Dauer 70 Min.
2 mittelgroße Kürbisse (Hokkaido-, Butternuss- oder Eichelkürbis)
1 Tasse / 150 g gekochte Kichererbsen (aus der Dose, abgegossen)
2 mittelgroße / 150 g Tomaten gehackt
1 mittelgroße Möhre geschält, klein geschnitten
1/4 Tasse / 30 g getrocknete Aprikosen gehackt und/oder Rosinen
3 EL Olivenöl
1 mittelgroße Zwiebel gehackt
2 Knoblauchzehen fein gehackt
1 cm Ingwer fein gehackt
1/2 TL schwarzer Pfeffer gemahlen
1/2 TL Paprikapulver
1/2 Tasse / 60 g Nüsse geröstet, gehackt (Hasel- oder Walnüsse, Mandeln, Sonnenblumenkerne etc.)
1/2 TL Zimt gemahlen oder 1 kleine Zimtstange
1 TL Kurkuma
3/4 TL Salz
2 1/2 Tassen / 600 ml Gemüsebrühe oder
2 1/2 Tassen / 600 ml Wasser + 2 TL Gemüsebrühpulver
1 Tasse / 160 g Couscous (ungekocht)
frische Minz- oder Petersilienblätter gehackt, zum Garnieren
Ofen auf 200°C / Stufe 6 vorheizen
Kürbisse längs halbieren. Weiches Inneres mit Löffel herauskratzen, um später 4 hohle Hälften zu füllen.
Mit Öl bestreichen und Hälften mit Öffnung nach unten auf ein Backblech legen. 20 Min. im Ofen vorrösten.
In einem großen Topf Olivenöl auf mittlerer Flamme erhitzen. Zwiebel, Knoblauch, Ingwer, Pfeffer, Paprikapulver und Nüsse hineingeben. 2–3 Min. anbraten bis Zwiebel und Nüsse leicht gebräunt sind.
Kichererbsen, Tomaten, Möhren, Aprikosen/Rosinen, Zimt und Kurkuma zugeben.
Umrühren und 2–3 Min. braten.
Gemüsebrühe (oder Wasser und Gemüsebrühpulver) und Salz hinzufügen. Zum Kochen bringen und unter regelmäßigem Rühren 5 Min. dünsten.
Couscous unterrühren. Auf niedrige Flamme zurückstellen, regelmäßig umrühren und halb abgedeckt
5–7 Min. köcheln, bis der Couscous weich ist. Flamme abstellen und Topf abdecken.
Fertig geröstete Kürbishälften aus dem Ofen nehmen und mit Couscousmischung füllen.
Die gefüllten Hälften weitere 25–35 Min. im Ofen backen, bis die die Füllung goldbraun und an den Rändern knusprig ist.
Mit frischer Minze oder Petersilie garnieren. Paprikapulver darüber streuen und servieren.
Variationen:
Würziger: Harissa statt oder mit Paprikapulver ist eine gute Idee. Italienisch: Thymian, Rosmarin und Oregano zugeben. Käsenote: Für einen nussigeren, käseähnlichen Geschmack Hefeflocken statt Gemüsebrühpulver verwenden. Kein Couscous: Statt Couscous bieten sich auch Quinoa, Gerste, Hirse oder Reis an. Manche Getreidesorten brauchen länger bis sie gar sind. Getrennt von Gemüse und Gewürzen
kochen (Wassermenge anpassen) und vor dem Backen der Füllung beimischen.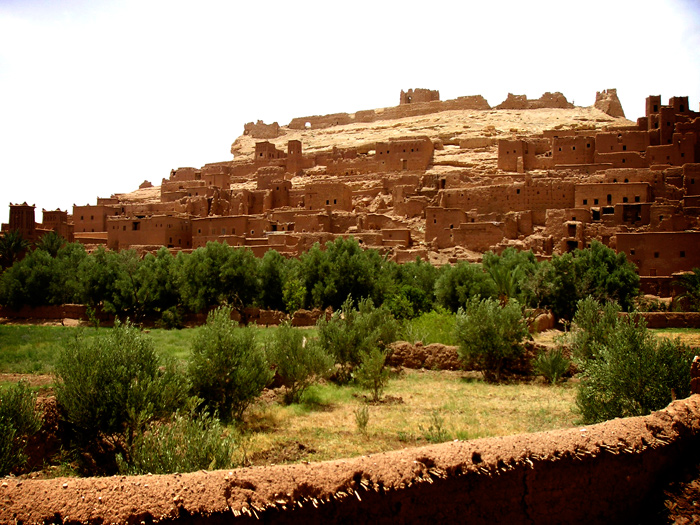 For this meal, I used two halves of a home garden-grown monster zucchini from friends here in Berlin. It turned out super delicious. There was even vegetable cous-cous stuffing leftover for lunch the next day. Yum!
I've also posted a few of my photos from Morocco after the recipe, including shots from Rabat, Fes, Marrakesh, Ait Benhaddou, and Chefchouen.
Have you been to Morocco? What was your favorite meal? Share your experiences!
Vegan Moroccan Stuffed Squash with couscous, nuts, dried fruit
serves 4+ / time: 70 min
2 large squash (acorn, butternut, small pumpkin)
2 medium / 150 g tomatoes diced
1 medium carrot peeled, thinly chopped
1 cup / 150 g chickpeas (cooked/canned, drained)
1/2 cup nuts (hazelnuts, walnuts, almonds, sunflower seeds, etc) chopped
1/4 cup dried apricots chopped and/or golden raisins
3 Tbs olive oil
1 medium onion chopped
2 cloves garlic finely chopped
1/2 in / 1 tspn fresh ginger finely chopped
1/2 tspn black pepper
1/2 tspn paprika
1/2 tspn cinnamon ground or 1-2 small sticks cinnamon bark
1 tspn turmeric
3/4 tspn salt
2 1/2 cups vegetable stock or
2 1/2 cups water + 2 Tbs vegetable broth / powder
1 cup couscous (uncooked)
Preheat oven to 400°F / 200°C / level 6.
Cut squash in half lengthwise. Remove soft insides with spoon to create 4 hollow halves to be filled.
Lightly oil, place squash face down on baking tray. Roast in oven for 20 min.
Heat olive oil in a large pot on medium heat. Add onion, garlic, ginger, pepper, paprika, nuts. Fry until onions are lightly browned, about 2-3 min.
Add chickpeas, tomatoes, carrots, apricots / raisins, cinnamon, turmeric. Mix well, fry 2-3 min.
Add veg stock / water + veg broth powder, salt. Bring to boil. Cook, stirring regularly, 5 min.
Stir in couscous. Return to low simmer, reduce heat to low, stir regularly, cook partially covered, until couscous is done, about 5-7 min. Turn off heat, cover.
When squash halves are done pre-roasting, remove, fill with vegetable couscous stuffing.
Roast stuffed squash until squash is cooked, stuffing is dark golden brown, crispy on edges, about 25-35 min.
Garnish with chopped nuts, chopped fresh parsley, mint or basil leaves. Sprinkle with ground paprika and serve! (In the photo I also used drizzled tahini.)
Variations:
Experiment with different spices! Harissa spice may be used in addition to or in place of ground paprika. Go Italian-style with thyme, rosemary, and oregano. Substitute nutritional yeast flakes for vegetable broth powder if desired for cheesier, extra nutty flavor. Other grains including quinoa, barley, millet or even rice may be used in place of couscous. Grains requiring longer cooking times may be cooked seperately from vegetables and spices (adjust added water accordingly) and combined at the end to make stuffing prior to roasting.