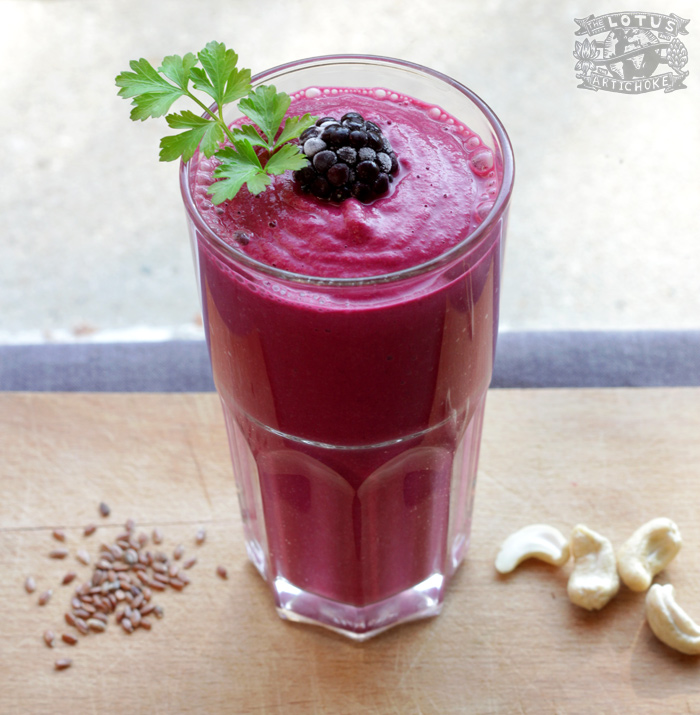 For years, I'd been dreaming of getting an awesome blender and making the transition from juice guy to smoothie guy. I've been into juicing for almost a decade, making a fresh juice about 4 or 5 times a week. When I go through phases of more raw living and detox days, and especially when I do a juice fast a few times a year, my juicer gets some serious play in the kitchen. Well, life took an amazing turn for me about two weeks ago…
I got a super duper, high-powered blender: a Vitamix Super TNC 5200. And I'm in love. I knew I'd love it, but I didn't know I'd love it this much. It's awesome for smoothies (duh!) but I also use it at least once more nearly every day for sauces, soups, spreads, desserts… in other words, all kind of prep work and kitchen fun. I also never expected it'd replace pretty much all of my favorite kitchen appliances, or at least fill them with envy. It's kind of crazy how I just don't need my small or large food processor anymore, and even my trusty coffee grinder, which I used daily for grinding nuts and spices has taken a back seat. Poor guys! Anyone want a used blender / food processor? Seriously, come and pick it up in Berlin.
Let's be honest. These things are pricey, especially if you live in Europe, as I do, and get these goodies as imports from the U.S.. I keep telling people when they ask me: Could it possibly be worth the investment? Well, if you cook and blend a lot, and if you love smoothies; Yes. Find the funds, take the plunge. (In the intro to my cookbook, I talk about getting the best tools you can afford, and considering practical needs, priorities, as well as budget.) Soon, you'll be wondering how you ever lived without a power blender. All the blenders I had over the years were difficult to clean and I avoided using them. This one's a totally different story: Simple to clean and practically indestructible. It's fun. It's awesome.
Of course, there are other brands and models. It shouldn't be too hard to find something that you can afford. And if you're already buying smoothies outside the house regularly, in a few months you'd probably have spent the same amount of money. (Based on my current Smoothie Addiction, I'd be spending over 50€ a week if I was buying them, not making them at home. Instead, I probably spend about 5 or 6€ a week on fresh, mostly organic ingredients for juices and smoothies.)
Since I love to travel, I'm already starting to wonder how I'll feel when I leave home for a few weeks or months (for example, this coming winter during my planned Mexico trip) and won't have my beloved smoothies just about every morning. I guess I'll be back to the stick blender, which fits well enough in my backpack and does the job. After all, I got by in India for a year without a juicer, and the stick (immersion) blender and small food processor I got there were enough. For several weeks in Africa I was always able to get by with a simple citrus press. So yeah, I'll survive.
Enough about the blender! Give me the smoothie!
This smoothie recipe, a Blackberry Beet Smoothie (with lots of other fun stuff in it, too) is part of a series of smoothies I plan to post about. Many of them have stories that relate to my travels and places I've lived in the 40+ countries I've seen. But this one is just fun and delicious. I've always loved beets and berries. I could talk about how beets remind me of India and berries about my childhood days of scouting trips in the forests of Northeastern America. Nah… Let's get on to the tasty stuff.
If you don't have a power blender (yet), you could make this with a standard blender, or even an immersion blender. Just chop the stuff well, and soak the nuts and seeds longer. Or use cashew butter. Be creative, have fun. It's your smoothie now. Enjoy!