Mirza Ghasemi
Persian roasted eggplant
serves 2 / time 60 min +
Recipe from The Lotus and the Artichoke – WORLD 2.0
(Rezept auf Deutsch unten)
1 large (350 g) eggplant (aubergine)
2 medium (180 g) roma tomatoes chopped
2–3 cloves garlic finely chopped
2–3 Tbs vegetable oil
1/2 tsp black pepper ground
1/2 tsp turmeric ground
1/2 tsp sugar
3/4 tsp salt
3–4 Tbs water more as needed
fresh parsley or mint leaves chopped, for garnish
Oven method: Preheat oven to 425°F / 220°C / level 7. Poke whole eggplant (aubergine) several times with a fork. Rub it with some oil and roast it on the middle rack in oven until charred, shriveled, and soft, 40–60 min. Remove from oven. Let cool 10 min.
Stove method: Roast eggplant whole, directly on a gas burner on a low flame, turning it regularly
with tongs until outsides are charred and insides are soft and cooked, 10–15 min. Set aside to cool.
Cut off and discard stems and bottom ends of roasted aubergine. Slice in half lengthwise, scoop out soft, cooked insides into a bowl and discard outer peels. Mash well with a fork.
Heat 2–3 Tbs oil in a large frying pan on medium heat. Add chopped garlic, and ground black pepper. Fry until richly aromatic, stirring constantly, 2–3 min. (If cooking variation below, add crumbled tofu now.)
Stir in chopped tomatoes. Cook, until they fall apart, stirring regularly, 7-10 min.
Add mashed, roasted eggplant, ground turmeric, sugar, and salt. Mix well.
Simmer on medium low, partially covered, stirring often, until thickened and oil separates, about
10–15 min, adding water gradually as needed. Remove from heat.
Garnish with chopped parsley or mint. Serve with fresh sangak, lavash, pita or other bread.
Variations:
Tofu Egg: Mirza Ghasemi is traditionally made with eggs. Recreate the taste by adding 3.5 oz (100 g) crumbled tofu after frying garlic. Fry tofu until browned, about 5–7 min, before adding chopped tomatoes. In the final minutes of simmering, stir in 1/4 tsp black salt (kala namak).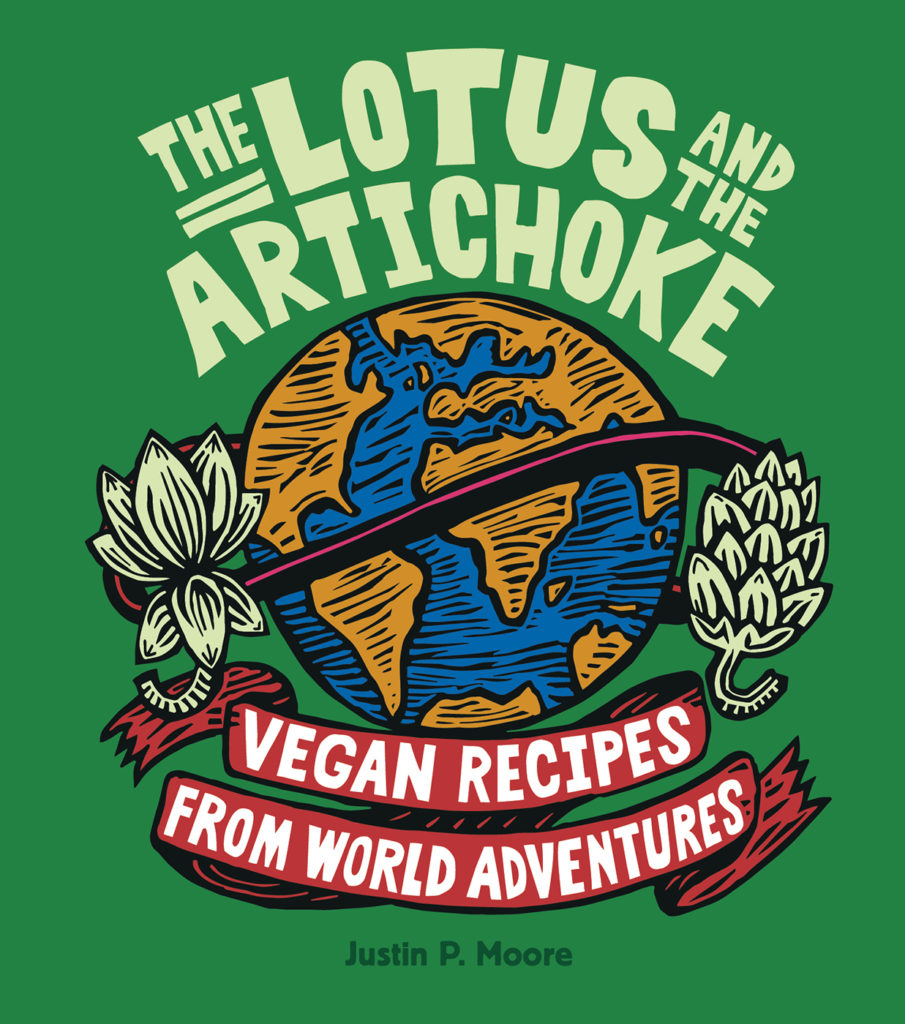 Mirza Ghasemi
Persische geröstete Aubergine
2 Portionen / Dauer 60 Min. +
Rezept aus The Lotus and the Artichoke – WORLD 2.0
1 große (350 g) Aubergine
2 mittelgroße (180 g) Roma-Tomaten gehackt
2–3 Knoblauchzehen fein gehackt
2–3 EL Pflanzenöl
1/2 TL schwarzer Pfeffer gemahlen
1/2 TL Kurkuma gemahlen
1/2 TL Zucker
3/4 TL Salz
3–4 EL Wasser bei Bedarf mehr
frische Petersilie oder Minze gehackt, zum Garnieren
Im Ofen: Ofen auf 220°C / Stufe 7 vorheizen. Aubergine mehrere Male mit einer Gabel einstechen, mit Öl einreiben und auf mittlerer Schiene 40 bis 60 Min. rösten, bis sie weich, verschrumpelt und die Haut leicht angekohlt ist. Aus dem Ofen nehmen und 10 Min. abkühlen lassen.
Auf dem Herd: Ganze Aubergine mit einer Zange unter regelmäßigem Wenden 10 bis 15 Min. direkt über der Gasflamme (niedrige Stufe) rösten, bis die Außenhaut angekohlt und das Fruchtfleisch weich ist. Auf einen Teller legen und abkühlen lassen.
Oberes und unteres Auberginenende abschneiden und wegwerfen. Aubergine halbieren.
Fruchtfleisch mit einem Löffel herauskratzen und in eine Schüssel geben. Verkohle Außenhaut wegwerfen. Fruchtfleisch in der Schüssel mit einer Gabel zerdrücken.
2 bis 3 EL Öl in einer großen Pfanne auf mittlerer Flamme erhitzen. Knoblauch und schwarzen Pfeffer hineingeben. 2 bis 3 Min. unter Rühren braten, bis es aromatisch duftet. (Für die Variation unten jetzt auch den zerkrümelten Tofu zugeben.)
Tomaten hinzufügen und 7 bis 10 Min. unter Rühren braten, bis sie zerfallen.
Zerdrückte Aubergine, Kurkuma, Zucker und Salz zugeben und gut umrühren.
Auf mittlerer Flamme halb abgedeckt circa 10 bis 15 Min. unter Rühren köcheln, bis die Mischung eindickt und das Öl sich trennt. Dabei je nach Bedarf nach und nach Wasser einrühren. Vom Herd nehmen.
Mit frischer gehackter Petersilie oder Minze garnieren. Mit frischem Sangak, Lavash, Pita oder anderem Brot servieren.
Variationen:
Tofu-Ei: Mirza Ghasemi wird traditionell mit Eiern zubereitet. Für einen ähnlichen Geschmack nach dem Anbraten des Knoblauchs 100 g zerkrümelten Tofu einrühren. Tofu circa 5 bis 7 Min. braun braten, dann die Tomaten hinzufügen. Während der letzten Kochminuten 1/4 TL Kala Namak (Schwarzsalz) einrühren.