German Lebkuchen – Traditional Christmas Cookies
makes 12-14 / time 45 min
Cookie dough:
2/3 cup / 100 g almonds ground
2/3 cup / 100 g hazelnuts ground
2/3 cup / 150 g sugar
1/3 cup / 50 g flour
3 Tbsn soy flour
1/2 cup water
3 Tbsn apricot or orange marmelade
1/4 cup / 25 g candied lemon peel (Zitronat) or dried figs finely chopped

1/4 cup / 25 g candied orange peel (Orangeat) or dried dates finely chopped
pinch salt
1/2 tsp vanilla extract
12 to 14 baking wafers (70 mm)
Spice mix:
1/4 tsp cinnamon ground
1/4 tsp cardamom ground
1/4 tsp cloves ground
pinch black pepper ground
pinch nutmeg ground
2 Tbsn cocoa powder OPTIONAL
For decoration:
Orange zest, almonds, hazelnuts, candied orange and lime peel
In a medium bowl, mix soy flour, sugar, marmalade, water well until mixture is smooth.
In a food processor, chop candied orange and lemon peels or dates and figs very finely. (If using dates and figs, add 1/2 Tbsn orange zest + 1/2 Tbsn lemon zest.)
In a large bowl, mix ground nuts, flour, salt, vanilla, and spice mix. Add contents of other bowl and chopped peels or dried fruit. Mix well to form smooth and moist dough.
Refrigerate 1 hr, or preferably, overnight.
Preheat oven to 375°F / 190°C / level 5.
Line baking tray with baking paper. Top a baking wafer with a heaping tablespoon of dough. Press down to form round and mostly flat cookies. Repeat with rest of the dough and wafers. Place well-spaced on baking tray. No baking wafers? Form flat and round cookies with a spoon and place directly on baking paper.
Bake for 12 to 15 minutes. Note: Cookies will still be soft and similar shape when done.
Remove from oven, allow to cool.
3 types of icing:
Chocolate icing:
2 oz / 50 g dark chocolate
Melt chocolate in medium pot set into larger pot of hot water.
Apply melted chocolate with spoon or baking brush on cooled cookies. Garnish carefully, let cookies dry.
Plain icing:
3 Tbsn water
2 Tbsn sugar
Mix water and sugar in small pot on medium heat until sugar is dissolved. Allow to cool.
Brush on/pour over with spoon on cooled cookies. Garnish carefully, let cookies dry.
White icing:
3 Tbs powdered sugar
1 Tbs coconut milk or soy cream
Whisk powdered sugar and coconut milk or soy milk in small bowl. Mix well until thick and creamy, adding sugar or liquid as needed.
Spread icing over cookies with spoon to fully cover. Garnish carefully, let cookies dry.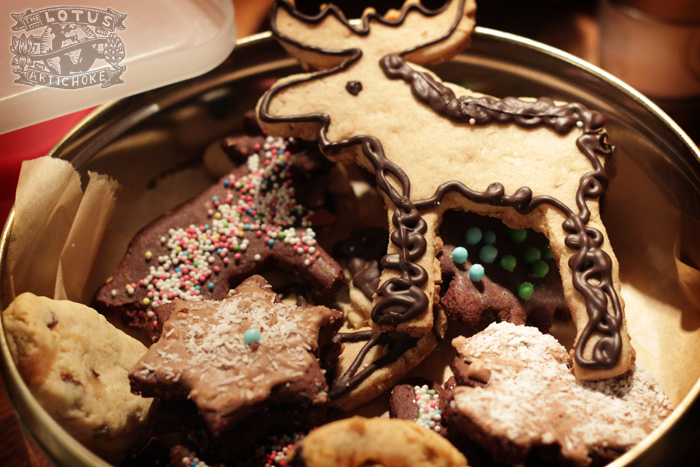 Elisenlebkuchen
12-14 Stück / Zubereitungszeit 45 Min.
Lebkuchenteig:
2/3 Tasse / 100 g Mandeln gemahlen
2/3 Tasse / 100g Haselnüsse gemahlen
2/3 Tasse / 150 g Zucker
1/3 Tasse / 50 g Mehl
3 Tbsn Soyamehl
1/2 Tasse / 120 ml Wasser
3 EL Aprikosen- oder Orangemarmelade
1/4 Tasse / 25 g Zitronat sehr fein gehackt
1/4 Tasse / 25 g Orangeat sehr fein gehackt
Prise Salz
1/2 TL Vanillinzucker
1 TL Wasser
12 – 14 Backoblaten (70 mm Durchmesser)
Gewürzmix: 1 EL Lebkuchengewürz; oder:
1/4 EL Zimt gemahlen
1/4 EL Kardamom gemahlen
1/4 EL Nelken gemahlen
1 Prise schwarzer Pfeffer gemahlen
1 Prise Muskat gemahlen
2 EL / 10 g Kakaopulver AUF WUNSCH
Zum Garnieren:
Orangenabrieb, Mandeln, Haselnüsse, Orangeat oder Zitronat
Soyamehl, Zucker, Wasser und Marmelade in einer mittelgroßen Schüssel vermischen und cremig rühren.
Orangeat und Zitronat in Küchenmaschine sehr fein häckseln.
Gemahlene Nüsse, Mehl, Vanillinzucker, Salz, wenn gewünscht Kakaopulver und Gewürzmix in großer Schüssel vermischen.  Gehacktes Orangeat und Zitronat sowie Mischung aus anderer Schüssel unter- und gut verrühren, bis ein glatter feuchter Lebkuchenteig entsteht.
Über Nacht oder mindestens 1 Stunde im Kühlschrank ruhen lassen.
Ofen auf 375°F / 190°C / level 5 vorheizen.
Backblech mit Backpapier auslegen. Mit einem Esslöffel einen großzügigen Kleks Teig auf eine Oblate geben und flach in Form drücken. Restlichen Teig auf Oblaten verteilen. Oblaten mit genügend Abstand auf Backblech setzen.
Lebkuchen in den Ofen schieben und ca. 15 Min. backen. Die Lebkuchen sollten nach dem Backen noch weich sein und ihre Form kaum verändert haben.
Aus dem Ofen nehmen und abkühlen lassen.
3 Glasuren:
Schokoladenüberzug:
Schokolade kleinbrechen und in kleine Schüssel geben. Kleine Schüssel in größeren Topf mit heißem Wasser stellen und Schokolade schmelzen lassen.
Glasur mit Löffel oder Backpinsel auf Oblaten streichen. Vorsichtig garnieren und trocknen lassen.
Klare Zuckerglasur:
In kleinem Topf Wasser und Zucker mischen und auf mittlerer Flamme erhitzen bis sich der Zucker aufgelöst hat. Abkühlen lassen.
Mit Löffel oder Backpinsel auf die Oblaten streichen. Vorsichtig garnieren und trocknen lassen.
Weiße Zuckerglasur:
3 TL Puderzucker
1 TL Kokosnussmilch oder Sojasahne
In einer kleinen Schüssel den Puderzucker und die Kokosnussmilch / Sojasahne gut verrühren bis eine cremig-feste Masse entsteht. Je nach Konsistenz Puderzucker oder Flüssigkeit hinzufügen, wenn die Glasur noch zu dünn oder schon zu zäh ist.
Mit einem Löffel auf die Oblaten geben bis diese ganz bedeckt sind. Vorsichtig garnieren und trocknen lassen.