Salade a la Montreal
arugula pear walnut salad with lemon balsamic dressing
serves 2 / time 20 min
recipe from The Lotus and the Artichoke – WORLD 2.0
(Rezept auf Deutsch unten)
arugula pear walnut salad:
2 cups (70 g) fresh arugula (rocket) greens
1 medium (100 g) pear thinly sliced
1/4 cup (30 g) walnuts
1 tsp olive oil
1/4 tsp black pepper ground
1/4 tsp salt
1 tsp sugar
Rinse and dry arugula. Transfer to a large bowl and set aside.
Heat olive oil in small frying pan on medium heat. Add sliced pear. Sprinkle with about 1/8 tsp ground black pepper and 1/8 tsp salt. Sear until soft and browned, about 2–3 min each side, stirring regularly. Transfer slices to a plate to cool.
Add walnuts to pan. Lightly roast on medium heat, stirring regularly, about 2–3 min.
Add 1/8 tsp ground black pepper and 1/8 tsp salt, followed by sugar. Mix well until sugar melts and coats walnuts, about 30–60 sec. Remove from heat immediately if it starts to burn or smoke.
Transfer caramelized walnuts to another plate to cool.
lemon balsamic dressing:
1 Tbs olive oil
1 Tbs lemon juice
2 tsp balsamic vinegar
1 tsp sugar or agave syrup
1–2 Tbs water
1/4 tsp black pepper ground
1/4 tsp salt
Whisk all dressing ingredients in a bowl or cup. Adjust to taste.
Add dressing to arugula greens and toss several times to mix.
Arrange arugula with dressing on plates. Top with seared pears and caramelized walnuts and serve.
Variations:
Raspberry: Substitute 1 tsp raspberry jam for agave syrup. Apples: Granny Smith or other crisp apples work in place of pears. Nuts: Lightly roasted sunflower seeds, pecans, or other nuts can be used in place of walnuts.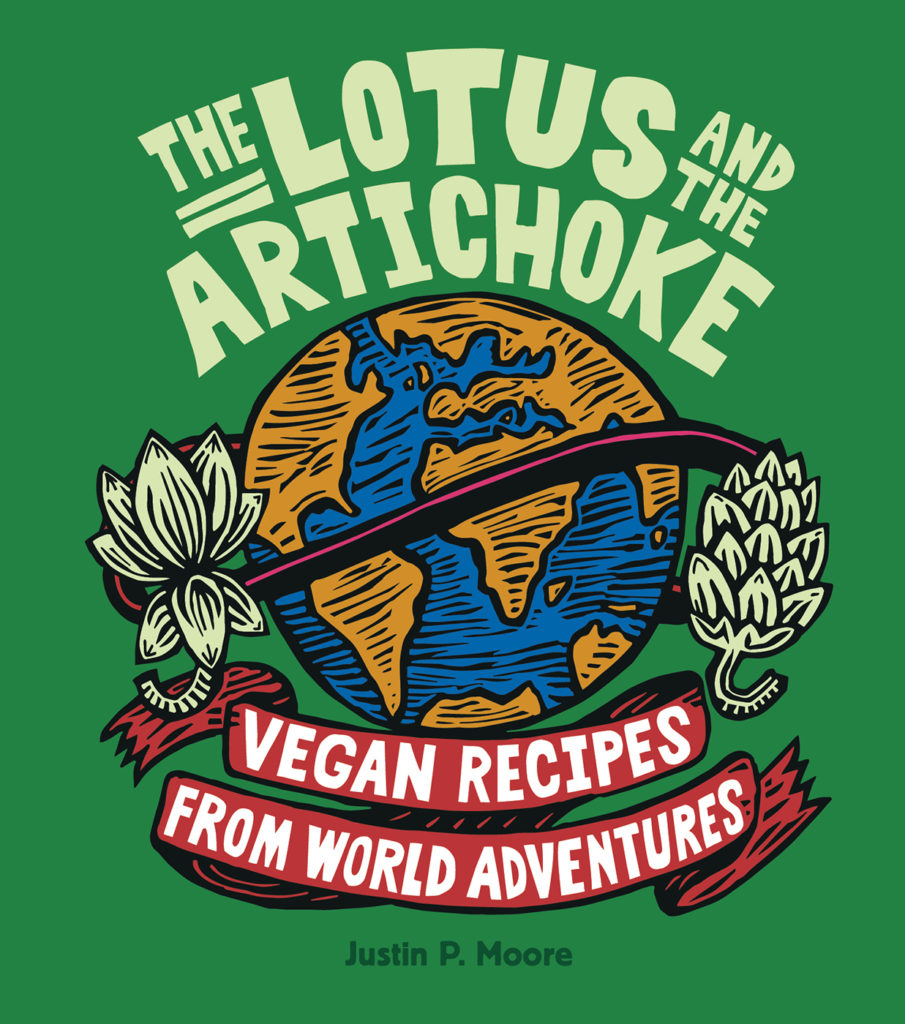 Salade a la Montreal
Rucola, Birnen & Walnüsse mit Zitrone-Balsamico-Dressing
2 Portionen / Dauer 20 Min.
Rezept aus The Lotus and the Artichoke – WORLD 2.0
Rucola-Birne-Walnuss-Salat:
2 Tassen (70 g) frischer Rucola
1 mittelgroße (100 g) Birne längs in dünne Scheiben geschnitten
1/4 Tasse (30 g) Walnüsse
1 TL Olivenöl
1/4 TL schwarzer Pfeffer geschrotet
1/4 TL Meersalz
1 TL Zucker
Rucola waschen und trocken tupfen. In eine große Schüssel geben und beiseite stellen.
Olivenöl in einer kleinen Pfanne auf mittlerer Flamme erhitzen. Birnenscheiben hineingeben und mit circa 1/8 TL schwarzem Pfeffer und 1/8 TL Salz bestreuen. Unter regelmäßigem Rühren 2 bis 3 Min. pro Seite schmoren, bis die Birnenscheiben weich und schön gebräunt sind. Birnenscheiben auf einen Teller legen und abkühlen lassen.
Walnüsse in die Pfanne geben. Auf mittlerer Flamme unter regelmäßigem Rühren circa 2 bis 3 Min. leicht rösten.
Zunächst 1/8 TL schwarzen Pfeffer und 1/8 TL Salz und danach den Zucker hinzufügen. Circa 30 bis 60 Sek. lang gut umrühren, bis der Zucker schmilzt und die Walnüsse mit einer dünnen Karamellschicht überzogen sind. Sofort vom Herd nehmen, wenn die Walnüsse zu stark bräunen oder Rauch entsteht.Karamellisierte Walnüsse auf einem zweiten Teller abkühlen lassen.
Zitrone-Balsamico-Dressing:
1 EL Olivenöl
1 EL Zitronensaft
2 TL Balsamico-Essig
1 TL Zucker oder Agavensirup
1–2 EL Wasser
1/4 TL schwarzer Pfeffer gemahlen
1/4 TL Meersalz
Alle Dressing-Zutaten in einer Schüssel oder Tasse verrühren. Abschmecken und auf Wunsch nachwürzen.
Dressing über den Rucola geben und mehrmals vermischen.
Rucola-Salat auf Tellern anrichten, geschmorte Birnenscheiben und karamellisierte Walnüsse darauf verteilen und servieren.
Variationen:
Himbeere: Agavensirup mit 1 TL Himbeermarmelade ersetzen. Äpfel: Statt Birnen Granny-Smith, oder andere knackige Äpfel verwenden. Nüsse: Statt Walnüssen leicht geröstete Sonnenblumenkerne, Pekan- oder andere Nüsse ausprobieren.