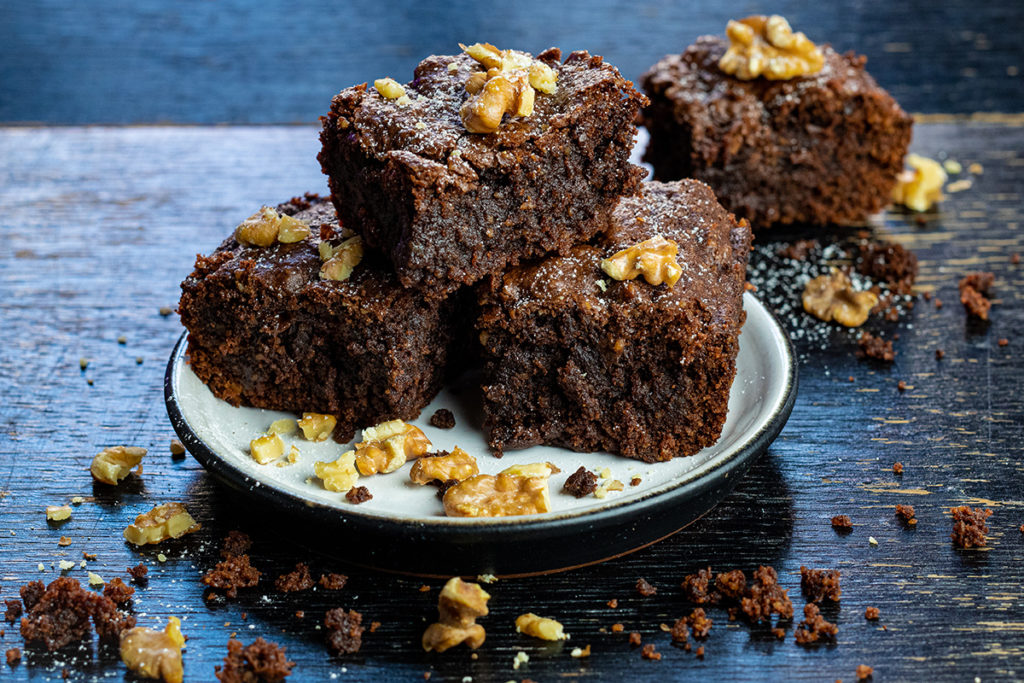 Roasted Walnut Brownies
with dark chocolate chips
makes 9 to 12 / time 45 min
recipe from The Lotus and the Artichoke – WORLD 2.0
(Rezept auf Deutsch unten)
1 1/2 cups (150 g) walnuts
2/3 cup (3.5 oz / 100 g) semi-sweet chocolate chips or dark chocolate finely chopped
1 cup + 1 Tbs (135 g) flour (all-purpose / type 550)
1/2 cup (40 g) unsweetened cocoa powder
1/8 tsp cinnamon ground
1 tsp vanilla extract or 1 tsp vanilla sugar
1 tsp baking powder
1/4 tsp sea salt
1/2 cup (120 ml) vegetable oil
1/2 cup (3.5 oz / 100 g) silken tofu
1/3 cup (80 ml) soy milk, oat milk or almond milk
1 cup (225 g) sugar
Preheat oven to 375°F / 190°C / level 5.
Lightly roast walnuts on a tray in the oven for 3–5 min. Watch them carefully so they don't burn! Remove from oven and let cool about 5 min.
Add roasted walnuts to a blender or small food processor. Pulse several times and then grind until fine.
Combine flour, cocoa powder, cinnamon, vanilla, baking powder, and salt in a mixing bowl.
In a separate bowl, combine oil, silken tofu (or soy flour / corn starch and water from Variations below), and soy (or oat / almond) milk. Add sugar and ground walnuts. Mix until smooth.
Gradually add dry mix into the wet ingredients, stirring continuously. Combine well, but do not overmix.
Gently stir in chocolate chips or chopped dark chocolate.
Lightly grease a medium-sized (7 x 10 in / 18 x 25 cm) baking dish or pan.
Pour and spoon batter into the baking dish and spread evenly.
Transfer to oven and bake until a toothpick comes out mostly clean, 25–35 min. Don't overbake or the brownies will be dry and hard instead of soft and moist. Remove from oven.
Let cool at least 30 min before cutting and serving.
Variations:
No Tofu: Substitute 2 Tbs soy flour or corn starch and 1/4 cup (60 ml) water. Double Nut: Add 1/3 cup (40 g) crumbled walnuts (or other nuts) along with chocolate chips.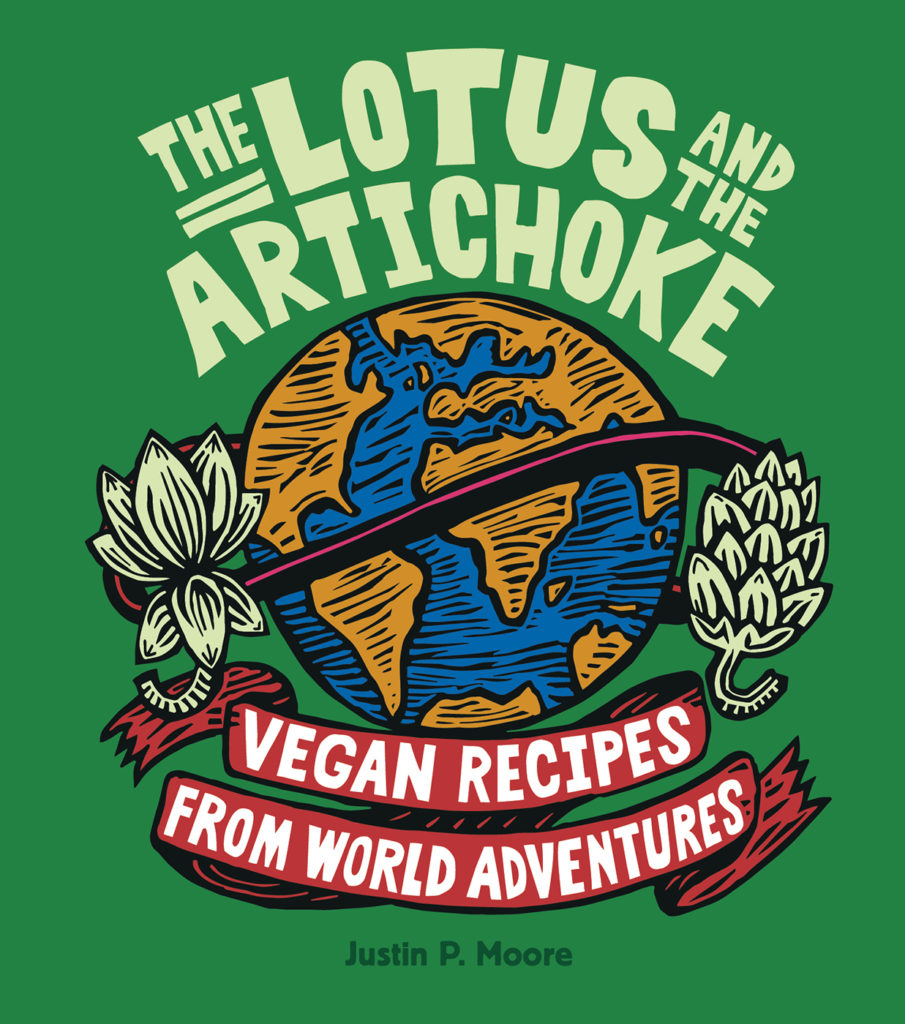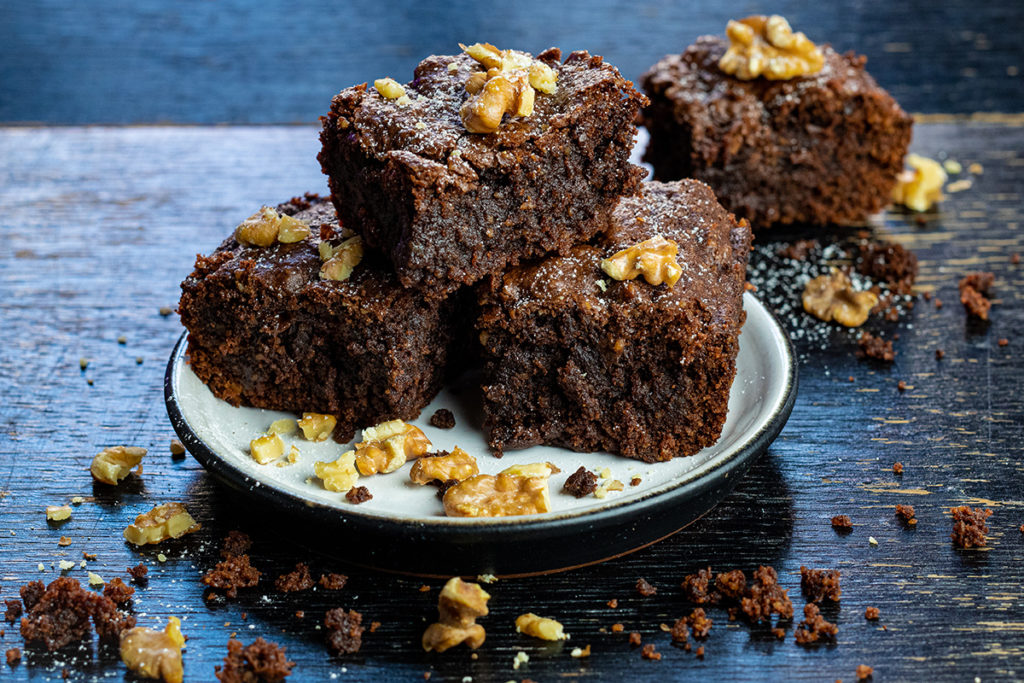 Roasted Walnut Brownies
mit zartbitteren Schokotropfen
9 bis 12 Stück / Dauer 45 Min.
Rezept aus The Lotus and the Artichoke – WORLD 2.0
1 1/2 Tassen (150 g) Walnüsse
2/3 Tasse (100 g) zartbittere Schokotropfen
oder Schokolade fein gehackt
1 Tasse + 1 EL (135 g) Mehl (Type 550)
1/2 Tasse (40 g) ungesüßtes Kakaopulver
1/8 TL Zimt gemahlen
1 TL Vanilleextrakt oder 1 TL Vanillezucker
1 TL Backpulver
1/4 TL Meersalz
1/2 Tasse (120 ml) Pflanzenöl
1/2 Tasse (100 g) Seidentofu
1/3 Tasse (80 ml) Soja-, Hafer- oder Mandelmilch
1 Tasse (225 g) Zucker
Ofen auf 190°C / Stufe 5 vorheizen.
Walnüsse auf einem Blech verteilen und 3 bis 5 Min. im Ofen rösten. Nicht zu dunkel werden lassen! Aus dem Ofen nehmen und 5 Min. abkühlen lassen.
Geröstete Walnüsse in einen Mixer oder eine kleine Küchenmaschine geben. Mehrmals häckseln und dann fein mahlen.
Mehl, Kakaopulver, Zimt, Vanille, Backpulver und Salz in einer Rührschüssel vermischen.
In einer zweiten Schüssel Öl, Seidentofu (oder Sojamehl/Speisestärke und Wasser wie in den Variationen beschrieben) und Soja– oder Hafer-/Mandelmilch verquirlen. Zucker und gemahlene Walnüsse unterrühren, bis eine glatte Mischung entsteht.
Nach und nach die trockenen unter die feuchten Zutaten rühren, bis alles gut vermischt, aber nicht zu
stark verrührt ist.
Schokotropfen oder gehackte Zartbitterschokolade unterheben.
Eine mittelgroße Backform (18 x 25 cm) leicht einfetten.
Teig in die Form geben und gleichmäßig verstreichen.
Brownies 25 bis 35 Min. im Ofen backen, bis ein Zahnstocher nach dem Einstechen sauber wieder herauskommt. Nicht zu lange backen, da die Brownies sonst trocken und fest und nicht weich und saftig werden. Aus dem Ofen nehmen.
Vor dem Anschneiden und Servieren mindestens 30 Min. abkühlen lassen.
Variationen:
Ohne Tofu: 2 EL Sojamehl oder Speisestärke mit 1/4 Tasse (60 ml) Wasser verrühren.
Extra nussig: 1/3 Tasse (40 g) gehackte Wal- oder andere Nüsse zusammen mit den Schokotropfen unterheben.