The Americans have their Pot Pies, the British have Steak Pies. There's also English and Irish Shepard's Pie and Cottage Pie. And then there are Australian Meat Pies, to which New Zealand also stakes a popularity claim. For the record, South Africans have traditional pies, too, and variations exist throughout other parts of Africa and the Middle-East.
The concept is similar, regardless of the accent of the eater: A pastry (or even potato) crust and a savory filling. The sizes vary greatly, too. From the U.S., I'm familiar with medium-sized pot pies. In England and Ireland, I've usually only seen larger pies. And for whatever reason, the traditional steak pies and meat pies of that continent down under are much smaller. They fit in your hand, can be eaten in a few ambitious bites, and are immensely popular for take-out. Or is it take-away? Aye, mate – Let's not get lost in semantics before the baking even begins!
Vegan Meat Pies
with lentils & vegetables
makes 6 to 8 mini pies / time 60 min +
recipe from The Lotus and the Artichoke – WORLD 2.0
(Rezept auf Deutsch unten)
pie crust:
3 cups (370 g) flour (all-purpose / type 550)
3/4 tsp baking powder
1 1/2 tsp sugar
3/4 tsp sea salt
1/2 cup (120 g) margarine
1 Tbs apple cider vinegar or rice vinegar
1/2 cup (120 ml) cold water
2–3 Tbs soy milk for glaze optional
Combine flour, baking powder, sugar, and salt in a large bowl. Mix vinegar and water in a small bowl.
Add margarine and mix of vinegar and water to large bowl. Combine well and knead to form a smooth dough, adding slightly more flour or water if needed. Cover and set aside while you make the filling.
lentil & vegetable filling:
3 medium (250 g) potatoes peeled, chopped
1 large (100 g) carrot chopped
1 stalk (70 g) celery chopped
1 medium (85 g) onion finely chopped
2–3 cloves garlic finely chopped
1/2 cup (90 g) brown lentils (dried)
2 cups (480 ml) water
2 Tbs vegetable oil
1/2 tsp paprika ground
1/2 tsp black pepper ground
1/2 cup (120 ml) red wine or white wine
or 1/2 cup (120 ml) water
3–4 medium (40 g) mushrooms chopped
3/4 cup (180 ml) soy milk
1/2 cup (30 g) fresh bread crumbs 
3 Tbs nutritional yeast flakes 
or 2 Tbs vegetable broth powder
1 Tbs corn starch
1 Tbs lemon juice
1 1/4 tsp salt
Rinse and drain lentils. Bring 2 cups (480 ml) water to boil in a small pot. Add lentils, return to boil. Reduce to medium low heat, cover. Cook until soft, about 15 min.
Heat oil in a large pot on medium heat. Add chopped onion, garlic, ground paprika, and black pepper. Fry until onions soften, stirring regularly, 3–5 min.
Add 1/2 cup (120 ml) wine (or water), chopped potatoes, carrot, and celery. Bring to simmer. Reduce to low heat. Cook partially covered, stirring occasionally, 8–10 min.
Add chopped mushrooms and cooked lentils. Increase heat to medium.
Cook, partially covered, stirring regularly, 4–5 min.
Add soy milk, bread crumbs, nutritional yeast flakes (or vegetable broth powder), corn starch, lemon juice, and salt. Mix well. Cook until thickened, stirring often, 3–5 min. Remove from heat.
How to make and bake the pies:
Preheat oven to 400°F / 200°C / level 6. Grease a muffin pan.
Knead and flatten or roll out a small ball of dough, 1/4 in (~5 mm) thickness on a floured surface.
Evenly pack flattened dough in muffin forms and trim edges. Spoon in a heaping portion of lentil filling.
Roll out dough and cut strips for top crust. Make borders and pinch pieces into place. Continue for other pies.If desired, brush pie tops with soy milk to glaze.
Bake 18–25 min until crusts are golden brown. Remove from oven. Let cool 10 min before serving.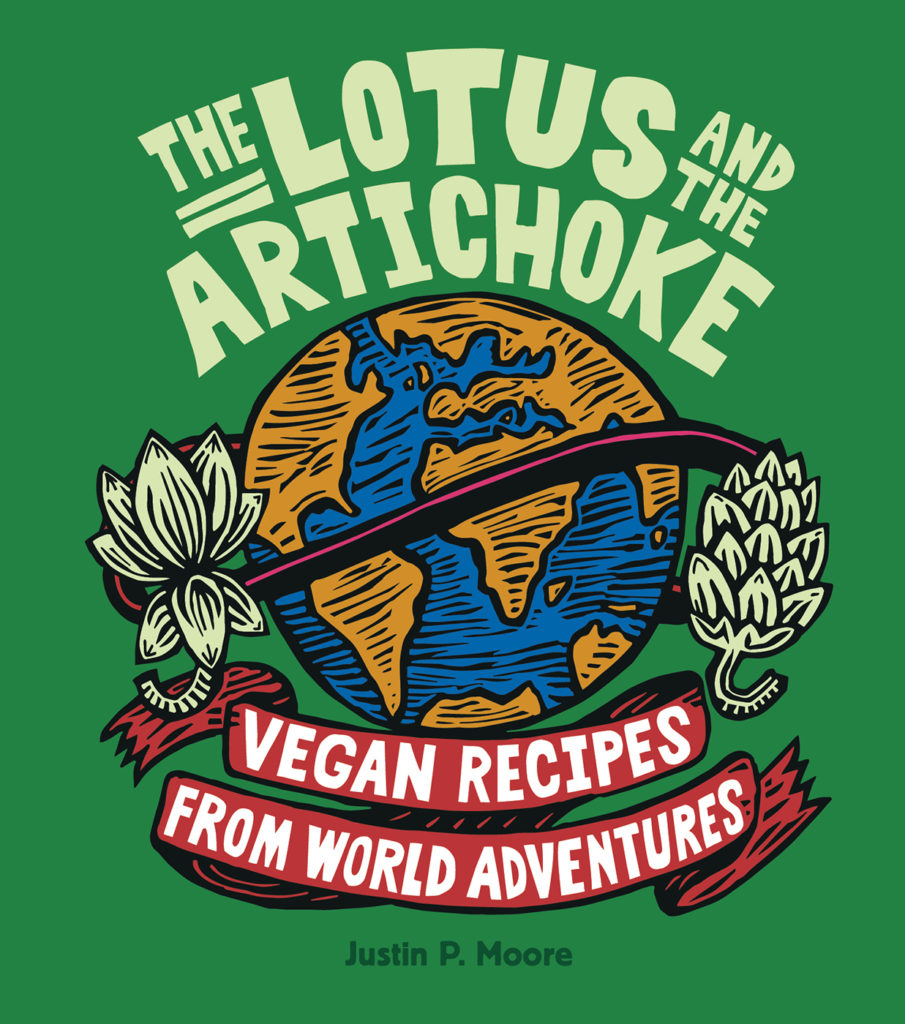 Vegan Meat Pies
Herzhafte Pastetchen mit Linsen & Gemüse
6 bis 8 Stück / Dauer 60 Min. +
Rezept aus The Lotus and the Artichoke – WORLD 2.0
Teig:
3 Tassen (370 g) Mehl (Type 550)
3/4 TL Backpulver
1 1/2 TL Zucker
3/4 TL Meersalz
1/2 Tasse (120 g) Margarine
1 EL Apfel- oder Reisessig
1/2 Tasse (120 ml) kaltes Wasser
2–3 EL Sojamilch zum Bepinseln wenn gewünscht
Mehl, Backpulver, Zucker und Salz in einer Rührschüssel vermischen. Essig und Wasser in einer kleinen Schüssel verrühren.
Margarine und Essigwasser in die Rührschüssel geben und alles zu einem glatten Teig verkneten. Bei Bedarf etwas mehr Mehl oder Wasser unterkneten. Abdecken, beiseite stellen und Füllung zubereiten.
Linsen-Gemüse-Füllung:
3 mittelgroße (250 g) Kartoffeln geschält, gehackt
1 große (100 g) Möhre gehackt
1 (70 g) Selleriestange gehackt
1 mittelgroße (85 g) Zwiebel fein gehackt
2–3 Knoblauchzehen fein gehackt
1/2 Tasse (90 g) braune Linsen (getrocknet)
2 Tassen (480 ml) Wasser
2 EL Pflanzenöl
1/2 TL Paprikapulver
1/2 TL schwarzer Pfeffer gemahlen
1/2 Tasse (120 ml) Rot- oder Weißwein
oder 1/2 Tasse (120 ml) Wasser
3–4 mittelgroße (40 g) Champignons gehackt
3/4 Tasse (180 ml) Sojamilch
1/2 Tasse (30 g) frische Semmelbrösel
3 EL Hefeflocken
oder 2 EL Gemüsebrühpulver
1 EL Speisestärke
1 EL Zitronensaft
1 1/4 TL Salz
Linsen waschen und abtropfen lassen. 2 Tassen (480 ml) Wasser in einem kleinen Topf zum Kochen bringen. Linsen hineingeben, erneut zum Kochen bringen und abgedeckt auf mittlerer Flamme 15 Min. weich kochen.
In einem großen Topf Öl auf mittlerer Flamme erhitzen. Zwiebel, Knoblauch, Paprikapulver und schwarzen Pfeffer hineingeben. 3 bis 5 Min. unter Rühren anschwitzen, bis die Zwiebel weich wird.
1/2 Tasse (120 ml) Wein oder Wasser, Kartoffeln, Möhre und Sellerie zugeben und zum Köcheln bringen. Flamme niedrigstellen und halb abgedeckt unter gelegentlichem Rühren 8 bis 10 Min. köcheln.
Pilze und gekochte Linsen einrühren und halb abgedeckt auf mittlerer Flamme unter Rühren 4 bis 5 Min. köcheln.
Sojamilch, Semmelbrösel, Hefeflocken oder Gemüsebrühpulver, Stärke, Zitronensaft und Salz einrühren. 3 bis 5 Min. unter häufigem Rühren köcheln, bis die Füllung eindickt. Vom Herd nehmen.
Pastetchen:
Ofen auf 200°C / Stufe 6 vorheizen. Eine Muffinform einfetten.
Teig durchkneten und vierteln. Drei Viertel des Teigs auf einer gemehlten Oberfläche 5 mm dick ausrollen.
Die Muffinmulden gleichmäßig mit dem ausgerollten Teig auskleiden. Überlappende Ecken abschneiden und mit dem letzten Teigviertel verkneten. Füllung in die Muffinmulden geben.
Letztes Teigviertel ausrollen und in Streifen schneiden. Je zwei Streifen kreuzweise über die Pastetchen legen und andrücken. Pastetchen auf Wunsch mit Sojamilch bepinseln.
18 bis 25 Min. backen, bis der Teig goldbraun ist. Aus dem Ofen nehmen und vor dem Servieren 10 Min. abkühlen lassen.