Pad Thai
fried rice noodles with tofu, sprouts, peanuts & lime
serves 2 to 3 / time 45 min
recipe from The Lotus and the Artichoke – WORLD 2.0
(Rezept auf Deutsch unten)
noodles & tofu:
7 oz (200 g) flat rice noodles (3–5 mm)
7 oz (200 g) firm tofu
1/4 tsp salt
3–4 Tbs vegetable oil
1 small shallot finely chopped
2–3 cloves garlic finely chopped
2 Tbs pickled radish finely chopped
sauce:
1 tsp tamarind paste (if using pulp, see below)
2 Tbs sugar
1 Tbs corn starch
4 Tbs soy sauce
3 Tbs lime juice
1/2 cup (120 ml) water
1/2 tsp salt
garnishes:
1/4 cup (30 g) peanuts lightly roasted, crushed
1 cup (60 g) bean sprouts
handful garlic chives or scallions chopped
roasted red chili pepper ground optional
3–6 lime slices
Cover rice noodles in a pot with hot (not boiling) water. Stir a few times. Do not boil. Let sit for 20-30 min.
Cut tofu in cubes. Simmer 10 min in pot of rapidly boiling water with 1/4 tsp salt. Drain well. Discard water.
Whisk all sauce ingredients in a bowl or measuring cup. (If using tamarind pulp instead of paste, soak first in 1 Tbs hot water, strain and use liquid, and discard solids.)
Heat oil in large pot or wok on medium high heat.
Add drained tofu. Stir fry until golden and crispy, about 4–7 min. 
Stir in finely chopped garlic, shallot, and pickled radish. Fry, stirring constantly, 1–2 min.
Drain noodles. Add to large pot or wok with tofu. Mix well. Cook until noodles soften slightly, 2–3 min.
Pour in whisked sauce ingredients. Mix well and cook until sauce thickens, 3–4 min, stirring regularly.
Stir in 1/2 cup (30 g) bean sprouts. Remove from heat. Cover. Let sit 5 min.
Distribute on plates. Garnish with crushed peanuts, remaining bean sprouts, chopped garlic chives (or scallions), ground roasted red chili (if desired), and lime slices. Serve.
Variations:
Pad Thai Pak: Fry 1 cup (75 g) chopped broccoli and a sliced carrot along with tofu. Increase sauce ingredients, shallot, and garlic as needed. Simpler: Omit tamarind paste or sub 1 Tbs tomato paste. Omit pickled radish or replace with 1 Tbs rice vinegar in sauce. Note: These variations are common, but not traditional.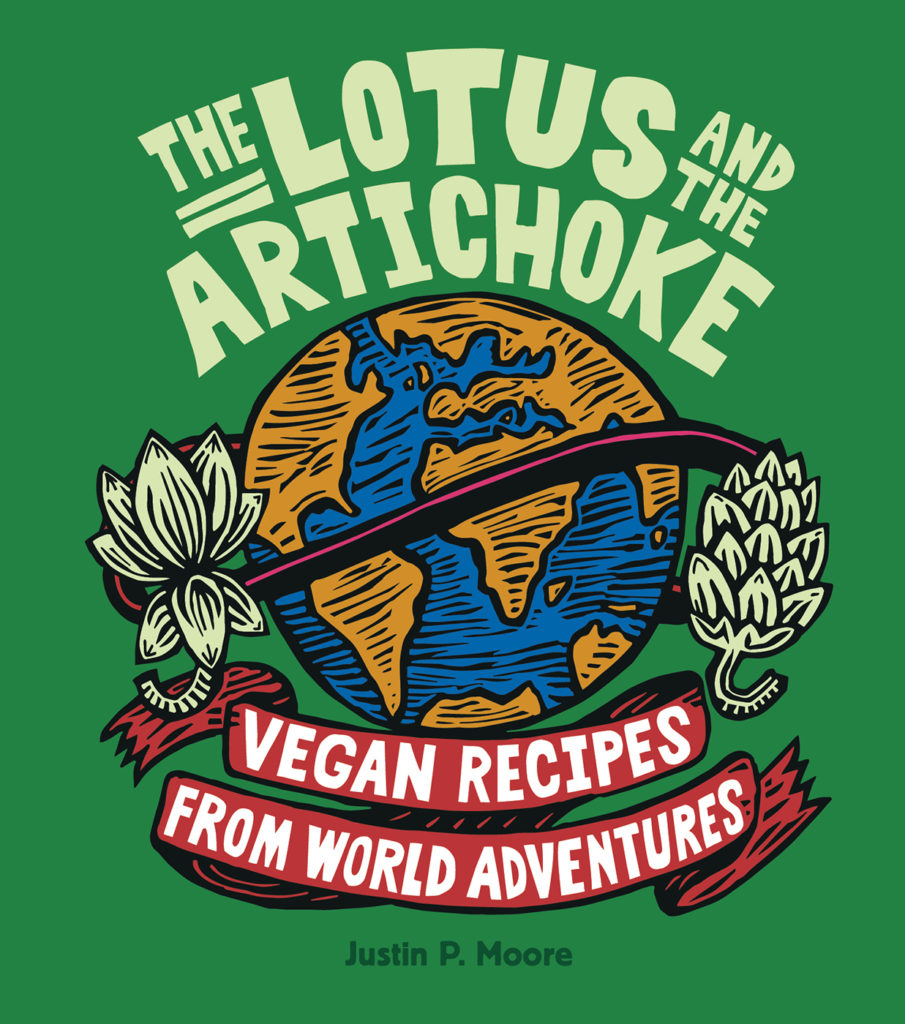 Pad Thai
Gebratene Reisnudeln mit Tofu, Bohnensprossen & Erdnüssen
2 bis 3 Portionen / Dauer 45 Min.
Rezept aus The Lotus and the Artichoke – WORLD 2.0
Nudeln & Tofu:
200 g flache Reisnudeln (3–5 mm)
200 g fester Tofu
1/4 TL Salz
3–4 EL Pflanzenöl
1 kleine Schalotte fein gehackt
2–3 Knoblauchzehen fein gehackt
2 EL eingelegte Radieschen fein gehackt
Soße:
1 TL Tamarindenpaste (für Tamarindenmark siehe Hinweis unten)
2 EL Zucker
1 EL Speisestärke
4 EL Sojasoße
3 EL Limettensaft
1/2 Tasse (120 ml) Wasser
1/2 TL Salz
Toppings:
1/4 Tasse (30 g) Erdnüsse leicht geröstet, gehackt
1 Tasse (60 g) Bohnensprossen
1 Handvoll Schnittknoblauch oder Schnittlauch gehackt
geröstetes Chilipulver wenn gewünscht
3–6 Limettenspalten
Reisnudeln in einen Topf mit heißem (aber nicht kochendem) Wasser geben, kurz umrühren und 20 bis 30 Min. weichen lassen.
Tofu würfeln und 10 Min. in einem Topf mit kochendem Wasser und 1/4 TL Salz köcheln. Abgießen und gut abtropfen lassen.
Alle Soßenzutaten in einer Schüssel oder einem Messbecher verrühren. (Hinweis: Tamarindenmark in 1 EL heißem Wasser einweichen und durch ein Sieb in die Schüssel abseihen. Flüssigkeit verwenden und Samen wegwerfen.)
Öl in einem großen Topf oder Wok auf mittlerer Flamme erhitzen.
Abgetropften Tofu hineingeben und 4 bis 7 Min. rundherum goldbraun und knusprig braten.
Knoblauch, Schalotte und eingelegte Radieschen zugeben und 1 bis 2 Min. unter ständigem Rühren braten.
Nudeln abgießen und in den Topf oder Wok mit dem Tofu geben. Gut umrühren und 2 bis 3 Min. braten, bis die Nudeln weicher werden.
Soße zugießen, umrühren und das Pad Thai 3 bis 4 weitere Min. unter ständigem Rühren köcheln, bis die Soße eindickt.
1/2 Tasse (30 g) Bohnensprossen unterheben. Abdecken, vom Herd nehmen und 5 Min. durchziehen lassen.
Auf Tellern anrichten und mit gehackten Erdnüssen, restlichen Bohnensprossen, frischem gehacktem Schnittknoblauch oder Schnittlauch, geröstetem Chilipulver (wenn gewünscht) und Limettenspalten garnieren und servieren
Variationen:
Pad Thai Pak: Je 75 g gehackten Brokkoli und Möhre zusammen mit dem Tofu braten. Soßenzutaten-, Schalotten- und Knoblauchmenge nach Bedarf erhöhen oder verdoppeln. Einfacher: Tamarindenpaste mit 1 EL Tomatenmark ersetzen. Eingelegte Radieschenscheiben weglassen oder mit 1 EL Reisessig in der Soße ersetzen. Diese Variationen sind recht verbreitet, aber keine traditionelle Zubereitungsweise.