This is a quick and easy vegan recipe for oven-roasted Gobi Tikka, a North Indian dish I love to make and serve with a bunch of other Indian recipes, especially if hosting a North Indian dinner party. It's a fast marinade (no waiting needed) and goes right in the oven and is done in about 30 to 40 minutes!
Especially in India, some traditional marinades for Gobi Tikka use yogurt, but I've seen it made many, many times with a basic (but delicious) dairy-free marinade much like mine. If you want, you can add 2–3 Tbs soy or coconut yogurt to the marinade, which will result in softer (less crunchy outside) roasted cauliflower. I often make it with some coconut milk, too, which gives it a more South Indian twist. See the Variations for that! Also, if you like more bold flavors, feel free to double all the spices, or add 1 tsp of (fresh!) garam masala spice mix. (I've got a recipe for garam masala in my INDIA cookbook/e-book.) You can also increase (or decrease) the amount of oil for the marinade, if you like.
I don't use (wheat or chickpea/besan) flour for my Gobi Tikka, but if you want, you could add 1–2 Tbs of either to your marinade. Possibly you'll need to adjust the cooking time and liquid amounts — increasing slightly either the water or lemon juice, and maybe tweaking the salt a bit, too. In my opinion, with the flour-y batter-fried coating it starts becoming more like Gobi Pakoras or Gobi Manchurian, both of which I make differently. I like my Gobi Tikka to focus more on the vegetable, not the coating.
Traditionally this dish would often be made in a tandoor clay oven, but probably, like me you haven't got one of those; a halfway decent 'modern' gas or electric oven will work to crank out an awesome Gobi Tikka in no time. It'll go even faster if you've got that convection (Umluft) magic going on… my ovens at home and at the cooking studio don't, but I've always been pleased with the results. I've had a few friends and recipe testers do this recipe in an air-fryer and that's fun, too… of course, you'll need to reduce the roasting time and keep a good eye on things while it's cooking, unless you like Burnt Gobi!
Serve it up with some hot, fresh flatbreads, like chapati or naan, or make a big pot of basmati rice. Again, this dish is great with a bunch of others to make a North Indian thali, or combo/set meal. It's not really saucy, so I often like to make Matar Tofu-Paneer (green peas and fried tofu cubes) or Palak Tofu-Paneer (spinach and fried tofu cubes) to go with it, especially if serving it with rice.
Gobi Tikka
North Indian roasted cauliflower
serves 3 to 4 / time 45 min
recipe from The Lotus and the Artichoke – WORLD 2.0
(Rezept auf Deutsch unten)
4 cups (400 g) cauliflower chopped
1 medium (90 g) tomato chopped
1 1/2 in (4 cm) fresh ginger finely chopped
2 cloves garlic finely chopped
2 tsp tamarind paste (seedless)
1 Tbs lemon juice
2 tsp sugar
1/4 cup (60 ml) water
2 Tbs vegetable oil more as needed
1/2 tsp turmeric ground
1/2 tsp cumin ground
1/2 tsp coriander ground
1/2 tsp paprika ground
1 tsp amchoor (mango) powder
1/4 tsp black pepper ground
1 tsp salt
small handful fresh coriander chopped, for garnish
Preheat oven to 425°F / 220°C / level 7.
In a large bowl, whisk tamarind paste, lemon juice, sugar, water, and oil.
Add chopped cauliflower, tomato, ginger, and garlic. Toss to mix several times.
Add ground turmeric, cumin, coriander, paprika, amchoor powder (if using), black pepper, and salt. Mix well to coat all pieces with spices.
Generously grease a medium large (8 x 10 in / 20 x 26 cm) baking tray or casserole dish with oil.
Pour mixture into the dish and transfer to the oven. Bake 20 min. Turn and mix pieces. Return to oven and bake until cauliflower pieces are roasted, scorched, and crispy on the edges, another 10–20 Min. Remove from oven.
Garnish with chopped fresh coriander.
Serve as an appetizer or with basmati rice, chapati (roti), or naan.
Variations:
Coconut creamy: Add 1/4 cup (60 ml) coconut milk along with tamarind and lemon juice. Vedic: Substitute 1/4 tsp asafoetida (hing) for chopped garlic. Fruity: Add 3/4 cup (100 g) chopped fresh pineapple and 3–4 chopped soft dates or 2–3 Tbs golden raisins.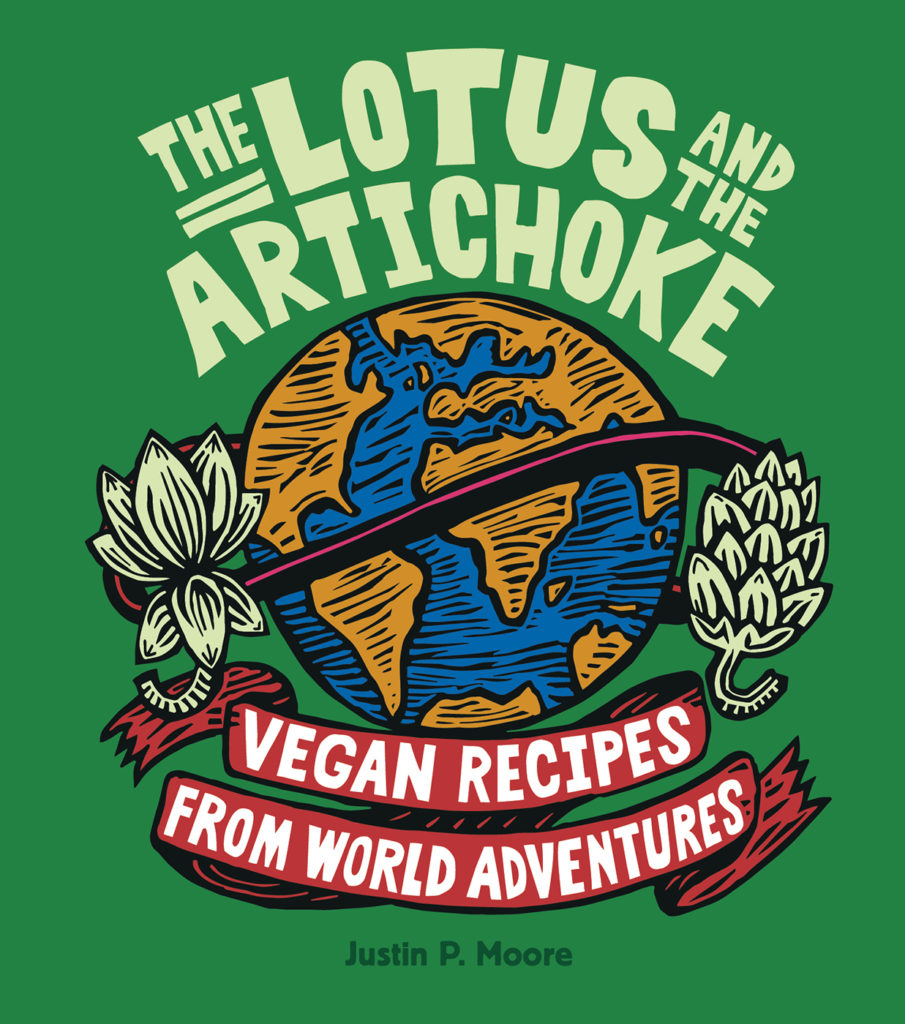 Gobi Tikka
Nordindischer gerösteter Blumenkohl
3 bis 4 Portionen / Dauer 45 Min.
Rezept aus The Lotus and the Artichoke – WORLD 2.0
4 Tassen (400 g) Blumenkohl gehackt
1 mittelgroße (90 g) Tomate gehackt
4 cm frischer Ingwer fein gehackt
2 Knoblauchzehen fein gehackt
2 TL Tamarindenpaste (ohne Kerne)
1 EL Zitronensaft
2 TL Zucker
1/4 Tasse (60 ml) Wasser
2 EL Pflanzenöl bei Bedarf mehr
1/2 TL Kurkuma gemahlen
1/2 TL Kreuzkümmel gemahlen
1/2 TL Koriander gemahlen
1/2 TL Paprikapulver
1 TL Amchur (Mangopulver)
1/4 TL schwarzer Pfeffer gemahlen
1 TL Salz
1 kleine Handvoll frisches Koriandergrün gehackt, zum Garnieren
Ofen auf 220°C / Stufe 7 vorheizen.
Tamarindenpaste, Zitronensaft, Zucker, Wasser und Öl in einer großen Schüssel verrühren.
Blumenkohl, Tomate, Ingwer und Knoblauch hinzufügen. Mehrmals umrühren und das Gemüse mit dem Mix überziehen.
Kurkuma, Kreuzkümmel, Koriander, Paprikapulver, Amchur (falls verwendet), schwarzen Pfeffer und Salz zugeben und alles gut vermischen.
Eine mittelgroße (20 x 26 cm) Auflaufform mit Öl einfetten.
Gemüsemischung hineingeben und 20 Min. im Ofen rösten. Herausnehmen und die Gemüsestücke wenden. Weitere 10–20 Min. im Ofen rösten, bis der Blumenkohl gar und außen knusprig und schön gebräunt ist. Aus dem Ofen nehmen.
Mit frischem gehacktem Koriandergrün garnieren und als Vorspeise oder mit Basmati-Reis, Chapati (Roti) oder Naan servieren.
Variationen:
Cremig mit Kokosnuss: 1/4 Tasse (60 ml) Kokosmilch zusammen mit der Tamarindenpaste und dem Zitronensaft einrühren. Vedisch: Statt Knoblauch 1/4 TL Asafoetida (Asant) verwenden. Fruchtig: 3/4 Tasse (100 g) frische gehackte Ananas und 3 bis 4 gehackte weiche Datteln oder 2 bis 3 EL Sultaninen hinzufügen.