When I was living in the small village of Lo de Marcos on the Pacific coast of Mexico, I went shopping at the vegetable shops in the neighborhood and cooked in the kitchen of our rented house every day. One of my favorite standard dishes, which I cooked at least twice a week, was Mexican Magic Rice. It's sort of a spin-off of traditional Mexican Dirty Rice, also called Messy Rice. It's basically a tomato rice dish – easy to make and always a treat. It's great with smoked tofu or fancy mushrooms instead of seitan.
I've been focusing so much on the new Malaysia cookbook coming out later this year… and, sure, I'm still obsessed with the recipes from my new SRI LANKA cookbook. But now it's time to give some more love to Mexico and all my favorite Mexican recipes from my previous cookbook with recipes inspired by my travels
I had always been fascinated by Mexico…
I wanted to spend more time there, since my first brief visit across the border with my family in the late 1980s. My second visit, in 2001, was a week-long visit with my father and brother Adam, and we went mountain climbing on Iztaccíhuatl. Fast forward to 2013: After the success of my first vegan cookbook inspired by my world travels, it was time to plan the next project. Mexico was my first pick for a winter escape from the cold Berlin winter. I talked with other travel bloggers I knew, and heard about the elusive town of San Pancho, an hour north of Puerto Vallarta, and just around the bend from surfer town Sayulita.
There's a great story of how I found an amazing house to rent right on the sea, and where I spent two months living with the locals, learning to surf, improving my Spanish, and super-charging my Mexican cooking game.
The original plan was to find a house in San Pancho.
But the scene was much more touristy and less authentic than I had pictured. Maybe a few years earlier it was still real. And the rents were well over what we wanted to spend.After a few days of looking for a reasonable, charming and down-to-earth place, we pretty much gave up on San Pancho. Locals suggested I go north to Lo de Marcos and see what was up over there. The search continued: asking everyone, locals and foreigners, if anyone knew of a house to rent. After two days of walking around in the sun and asking, and exhausting all the online resources for holiday rentals, we were just about ready to give up again. We had only one more night at the small apartment for one week in San Pancho until we needed to find a new place.
On that fateful day, exhausted and sweaty, I sat down on the sidewalk on the small street a few minutes walk from the ocean. I saw two guys walking back from the beach, shirtless and tan. One had a fresh tattoo of Santa Muerte, the elaborately decorated Mexican Lady Death with a painted skeleton face, still healing on his chest. Should I ask them if they knew of any places to rent? Or would it be just like all the times before: no particularly helpful suggestions and just a smile and wish of good luck in our search?
If you don't ask, the answer is always No.
I stood up and greeted the young men, "Buenos días, we're looking for a place to rent for a few months. Do you know of anything." The guy with the tattoo, laughed and said, "How about my house? We're standing right in front of it. We leave to go to Montreal tomorrow afternoon. Want to come in and see the house?"
He unlocked the gate and we walked up the path. "I have to warn you, the house is kind of… unique. I love to cook and I built out the kitchen with a six-burner stove and giant double refrigerator from a restaurant that closed in Puerto Vallarta. It's probably way more than you need, eh?" It was my turn to laugh. I told him that I cook every day and had come to Mexico to spend a few months learning more about the local cuisine and to work on recipes for a new cookbook.
The entry way opened up to an expansive garden with papaya trees, banana trees, towering coconut palms, and a large herb garden with massive bushes of basil, oregano, parsley, cilantro, and rosemary. The house itself was a cosy and quaint, two-level casita, painted bright yellow and had a classic terracotta tiled roof with a thatched veranda. "There are two bedrooms downstairs, and another room upstairs with its own bathroom and mini-kitchen. You can eat on the veranda upstairs, or downstairs on the patio. We've got fast internet, a working washing machine, and… oh, here's the outdoor shower."
I imagined myself showering in the outdoor shower and rinsing the salt water from my surfboard after a day in the waves.
The house was perfect. Everything was falling into place in that awesome way. My friend Ben from Germany was coming to visit for a few weeks with his brother. My dad was planned to visit for a week, too. The upstairs room would be perfect for visitors, and could be my yoga room and work studio at other times. Instead of renting a small place (and we had seen many, but they just didn't feel right, so we'd kept looking), we could rent this and the guests could stay here with us, instead of finding another place. We worked out a fair price for the rent the next day. I helped him finish packing the car and he gave me the keys to our beach house in Lo de Marcos, Mexico.
Mexican Magic Rice is fantastic with Cashew Sour Cream or Guacamole and served on a bed of greens, lettuce, or with a salad. It's also awesome for packing killer bean burritos and much more fun than just plain rice. Similar to my Cambodian Fried Rice recipe from my first The Lotus and the Artichoke cookbook, this dish is a readers' favorite, and can easily be doubled for a big family meal. I cook it all the time for dinner parties and cooking classes. And I still cook it regularly at home for my own family and friends.
Enjoy!
Mexican Magic Rice
tomato rice with spicy seitan
serves 3 to 4 / time 35 min
5 oz (150 g) seitan sliced or chopped
3/4 cup (75 g) green peas
1/2 cup (50 g) black olives sliced or chopped
3 Tbs vegetable oil
1 medium onion chopped
2 cloves garlic finely chopped
1 tsp cumin ground
1 tsp coriander ground
1 cup (200 g) rice
2 Tbs tomato paste
1/2 tsp turmeric ground
1 bay leaf
3/4 tsp salt
1/2 cup (120 ml) beer or vegetable broth
1 cup (240 ml) water
1 tsp smoked paprika ground
1/2 tsp black pepper ground
1/2 tsp ground chipotle or chili powder optional
1 tsp fresh oregano chopped
1 Tbs lemon juice
fresh cilantro or parsley chopped, for garnish
Heat 2 Tbs oil in large pot on medium high heat. Add chopped onions, garlic, ground cumin, and coriander. Fry, stirring constantly, 2–3 min.
Add rice, tomato paste, turmeric, bay leaf, salt. Mix well.
Stir in beer (or vegetable broth) and water. Bring to boil, stirring, Reduce heat to low. Cover and cook 15–20 min until rice is cooked. Remove from heat. Mix with a fork. Cover and let sit 5–10 min.
Heat 1 Tbs oil in large frying pan on medium high heat.
Add ground paprika, pepper, chipotle (or chili powder), chopped seitan. Fry, stirring regularly, until lightly crispy and browned, 4–5 min.
Stir in chopped oregano and lemon juice, followed by peas and chopped olives. Cook another 2–3 min, stirring regularly. Remove from heat. Cover until rice is ready.
Add cooked seitan, peas, and olives to rice pot. Mix well. Cover until ready to serve.
Garnish with chopped cilantro or parsley and serve.
Variations:
No fake meats: Replace seitan with chopped mushrooms. Sliced oyster Mushrooms or portabellos are best! No olives: Replace with corn kernels, chopped bell pepper, broccoli or other vegetables. Extra Spicy: Add 1 chopped chipotle (or other) chili with spices when frying seitan. More Red: Sauté 8–10 cherry or small plum tomatoes with seitan, halved or whole.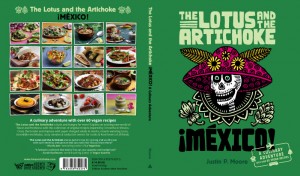 Mexican Magic Rice
mit würzigem Seitan
3 bis 4 Portionen / Dauer 35 Min.
Rezept aus The Lotus and the Artichoke – MÉXICO!
150 g Seitan in Scheiben oder Stückchen geschnitten
3/4 Tasse (75 g) grüne Erbsen
1/2 Tasse (50 g) schwarze Oliven in Scheiben oder Stückchen geschnitten
3 EL Öl
1 mittelgroße Zwiebel gehackt
2 Knoblauchzehen fein gehackt
1 TL Kreuzkümmel gemahlen
1 TL Koriander gemahlen
1 Tasse (200 g) Reis
2 EL Tomatenmark
1/2 TL Kurkuma
1 Lorbeerblatt
3/4 TL Salz
1/2 Tasse (120 ml) Bier oder Gemüsebrühe
1 Tasse (240 ml) Wasser
1 TL Paprikapulver
1/2 TL schwarzer Pfeffer gemahlen
1/2 TL Chipotle- oder Chilipulver wenn gewünscht
1 TL frischer Oregano gehackt
1 EL Zitronensaft
frischer Koriander oder Petersilie gehackt, zum Garnieren
In einem großen Topf 2 EL Olivenöl auf mittlerer Flamme erhitzen. Gehackte Zwiebeln, Knoblauch, gemahlenen Kreuzkümmel und Koriander hineingeben. 2-3 Min. unter ständigem Rühren anbraten.
Reis, Tomatenmark, Kurkuma, Lorbeerblatt und Salz hinzufügen. Gut umrühren.
Bier oder Gemüsebrühe und Wasser einrühren. Unter Rühren zum Kochen bringen. Flamme niedrig stellen. Abdecken und 15-20 Min. kochen, bis der Reis gar ist. Vom Herd nehmen und mit einer Gabel auflockern. Abdecken und 5-10 Min. ziehen lassen.
1 EL Olivenöl in einer großen Pfanne auf mittlerer Flamme erhitzen.
Paprikapulver, Pfeffer, Chipotle– oder Chilipulver und Seitanstücke hineingeben. 4-5 Min. unter Rühren anbraten, bis der Seitan leicht knusprig und gebräunt ist.
Gehackten Oregano und Zitronensaft, Erbsen und Olivenstückchen einrühren. Weitere 2-3 Min. unter ständigem Rühren schmoren. Vom Herd nehmen. Abdecken, bis der Reis fertig ist.
Gebratenen Seitan, Erbsen und Oliven in den Topf mit dem Reis geben. Gut umrühren und bis zum Servieren abgedeckt ziehen lassen.
Mit gehacktem Koriander oder Petersilie garnieren und servieren.
Variationen:
Ohne Fleischersatz: Statt Seitan gehackte Pilze, z.B. Kräuterseitlinge, verwenden. Ohne Oliven: Mit Maiskörnern, Paprika-, Brokkoli- oder anderen Gemüsestückchen ersetzen. Scharf: 1 fein gehackte Chipotle- oder Chilischote beim Anbraten der Gewürze und den Seitanstückchen in die Pfanne geben. Rote Farbtupfer: 8-10 Cherrytomaten ganz oder halbiert mit dem Seitan anbraten.