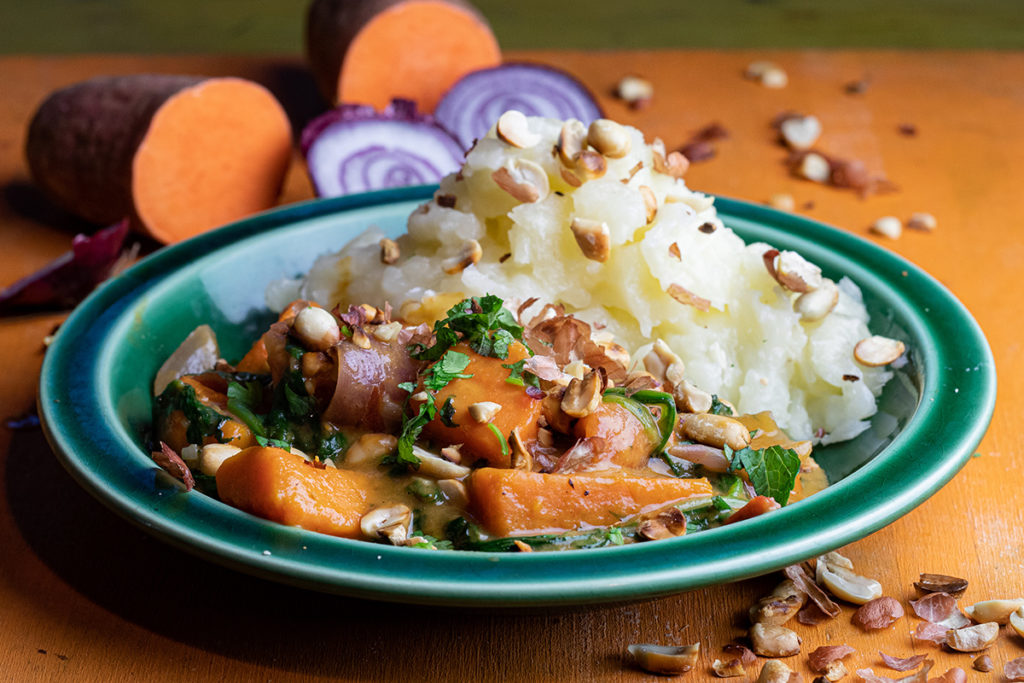 Seven Seater
Dakar, Senegal. 10/2009
Got up at the call to worship. The muezzin's electric voice singing through the alleys and into the open windows of my little room at Saint-Louis Sun Hotel. Cold shower and out the door. Abdou drove me to Gare Routiere Pompiers, an absolute circus of a station an hour's urban safari from where we began.
It was a challenge, swimming in a sea of shouting drivers and riders intent on filling rundown Renaults and Peugeots for overland journeys to every corner of Senegal within a day's drive. Eventually I found the vehicles bound for Banjul, The Gambia. Drank a sweet coffee at a makeshift stall while the driver tied a dozen bulky pieces of luggage to the roof with ropes. The engine doesn't want to start, but then it does. 
Thirty minutes on, our car grinds to a halt and dies. Now we're on the side of the road in the already hot, still hectic outskirts of Dakar.
The driver says another Sept-Place will rescue us in an hour. Maybe two. Inshallah. So we're all squatting in the shade in silence. Calm and unfazed. No one is anxious or angry. There is no rush. This happens all the time.
Ninety minutes later another battered Renault seven-seater taxi pulls up; Red dust swirls around us. Brief chatter. In no particular hurry we stand up, leisurely load up our new ride, climb into our busted seats and continue the six hour bumpy journey to the border. 
Plasas & Fufu
Gambian spinach peanut stew with mashed cassava
serves 2 to 3 / time 35 min
recipe from The Lotus and the Artichoke – WORLD 2.0
(Rezept auf Deutsch unten)
plasas (spinach peanut stew):
8–10 cups (12 oz / 350 g) spinach chopped
1 large (230 g) sweet potato peeled, chopped
2 medium (160 g) tomatoes chopped
1 medium (100 g) red onion chopped
2 cloves garlic finely chopped
1/2 tsp black pepper ground
2 Tbs vegetable oil
3 Tbs peanut butter or peanuts lightly roasted, ground
1–2 Tbs tomato paste
2 tsp vegetable broth powder
1/2 tsp salt
3/4 cup (180 ml) water
1/4 cup (30 g) peanuts lightly roasted, for garnish
Heat 2 Tbs oil in large pot on medium heat.
Add chopped onion, garlic, and ground black pepper. Fry, stirring regularly, until aromatic. 2–3 min.
Add chopped sweet potato and tomatoes. Cook until tomatoes fall apart, 4–6 min, stirring regularly.
In a bowl or measuring cup, whisk peanut butter (or ground peanuts), tomato paste, vegetable broth powder, salt, and water. Stir into pot. Bring to low boil, reduce heat to medium low. Simmer partially covered, stirring occasionally, 10 min.
Stir in chopped spinach. Cover and steam 5–7 min, stirring occasionally, adding more water if needed. When the spinach is done, stir a few times and turn off heat.
Garnish with roasted peanuts. Serve with fufu or rice.
fufu (mashed cassava):
18 oz (500 g) cassava (also known as: manioc & yuca)peeled, chopped
1 Tbs margarine or vegetable oil
1 1/2 cup (360 ml) water more as needed
1/4 tsp salt
Bring 1 1/2 cup (360 ml) water to boil in large pot. Add chopped cassava.
Return to boil, reduce heat to low. Cover, steam until soft, stirring occasionally, about 20 min.
Remove from heat. Add margarine (or oil) and salt. Mix well. Let cool 5–10 min.
Blend or mash until mostly smooth with an immersion blender or potato masher until mostly smooth. Add water gradually, if needed. The consistency should be similar to thick, sticky mashed potatoes.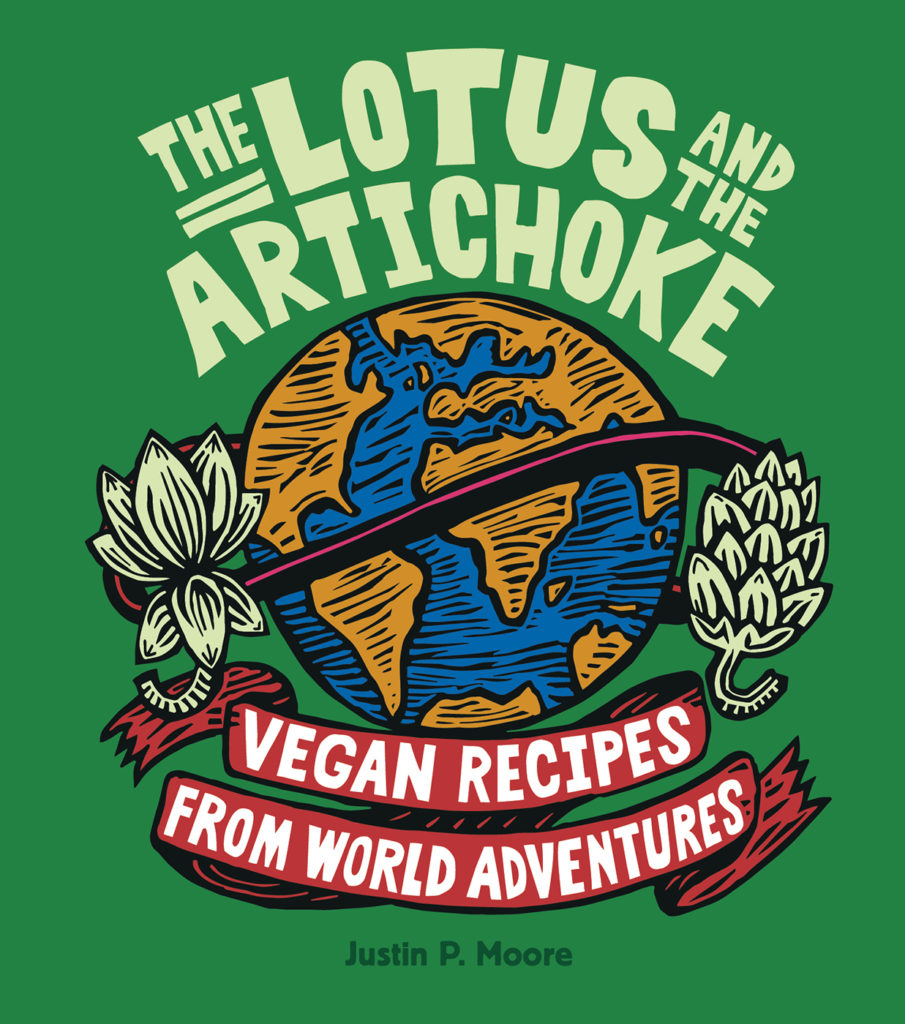 Siebensitzer
Dakar, Senegal. 10/2009
Stehe mit dem Ruf zum Morgengebet auf. Die elektrisierende Stimme des Muezzins klingt durch die Straßen und findet ihren Weg durchs offene Fenster in mein kleines Zimmer im Saint-Louis Sun Hotel. Kalte Dusche und los. Abdou fährt mich zum Gare Routiere Pompiers, einem absolut chaotischen Bus- und Autosammelplatz, ungefähr eine Stunde Irrfahrt vom Hotel entfernt.
Nicht gerade einfach, sich durch das Meer an Menschen zu drängen und genau den richtigen laut rufenden Fahrer zu finden, der seinen rostlaubigen Renault oder Peugeot für eine bis zu einen Tag dauernde Überlandfahrt in einen bestimmten Winkel Senegals mit Passagieren vollpacken will. Irgendwann finde ich die Ecke, wo die Mitfahrgelegenheiten nach Banjul, Gambia, stehen. Schnell noch einen süßen Kaffee von einem klitzekleinen Stand runterkippen, während der Fahrer mindestens ein Dutzend unhandliche Gepäckstücke auf dem Dach festzurrt. Der Motor will erst nicht anspringen, erwacht dann aber doch zum Leben. 
Dreißig Minuten später kommt unser umgebautes Vehikel zum Halten und streikt. Nun sitzen wir alle am Straßenrand, kurz hinter Dakar, wo es schon jetzt ziemlich heiß und ziemlich hektisch ist.
Laut Fahrer wird uns bald ein anderer Sept-Place aufsammeln. In einer Stunde. Vielleicht zwei. Inschallah. Also hocken wir uns in den Schatten. Alle um mich herum sind ruhig und gelassen, niemand irgendwie nervös oder wütend, niemand gehetzt. So etwas passiert ständig.
Neunzig Minuten später rollt ein anderer zerbeulter Siebensitzer-Renault an und wirbelt den roten Staub um uns auf. Ein kurzer Austausch, dann stehen alle auf, niemand in besonderer Eile. Gelassen wird unsere neue Mitfahrgelegenheit mit dem Gepäck beladen und alle klettern auf ihre durchgesessenen Sitze.
Weiter geht die noch sechsstündige Ruckelfahrt in Richtung Grenze.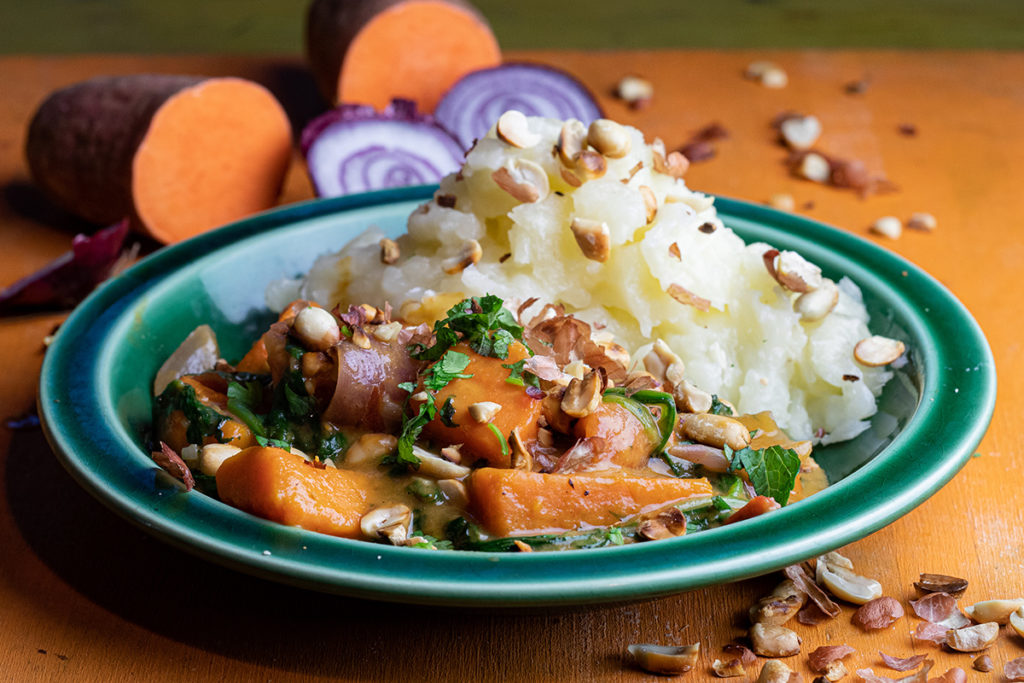 Plasas & Fufu
Gambischer Spinat-Erdnuss-Eintopf mit Maniok-Stampf
2 bis 3 Portionen / Dauer 35 Min.
Rezept aus The Lotus and the Artichoke – WORLD 2.0
Plasas (Spinat-Erdnuss-Eintopf):
8–10 Tassen (350 g) Spinat gehackt
1 große (230 g) Süßkartoffel geschält, gehackt
2 mittelgroße (160 g) Tomaten gehackt
1 mittelgroße (100 g) rote Zwiebel gehackt
2 Knoblauchzehen fein gehackt
1/2 TL schwarzer Pfeffer gemahlen
2 EL Pflanzenöl
3 EL Erdnussbutter oder Erdnüsse leicht geröstet, gemahlen
1–2 EL Tomatenmark
2 TL Gemüsebrühpulver
1/2 TL Salz
3/4 Tasse (180 ml) Wasser
1/4 Tasse (30 g) Erdnüsse leicht geröstet, zum Garnieren
2 EL Öl in einem großen Topf auf mittlerer Flamme erhitzen.
Zwiebel, Knoblauch und schwarzen Pfeffer hineingeben. 2 bis 3 Min. unter regelmäßigem Rühren anschwitzen, bis es aromatisch duftet.
Süßkartoffel und Tomaten zugeben. 4 bis 6 Min. unter regelmäßigem Rühren braten, bis die Tomaten zerfallen.
Erdnussbutter oder gemahlene Erdnüsse, Tomatenmark, Gemüsebrühpulver, Salz und 3/4 Tasse (180 ml) Wasser in einer Schüssel verquirlen. In den Topf geben, umrühren und zum Kochen bringen. Flamme herunterstellen und den Eintopf 10 Min. unter gelegentlichem Rühren köcheln lassen.
Spinat einrühren, abdecken und 5 bis 7 Min. unter gelegentlichem Rühren dämpfen. Bei Bedarf etwas mehr Wasser einrühren. Wenn der Spinat gar ist, mehrmals umrühren und vom Herd nehmen.
Mit gerösteten Erdnüssen garnieren und mit Fufu oder Reis servieren.
Fufu (Maniok-Stampf):
500 g Maniok (bzw. Cassava oder Yuca) geschält, gehackt
1 EL Margarine oder Pflanzenöl
1 1/2 Tasse (360 ml) Wasser bei Bedarf mehr
1/4 TL Salz
1 1/2 Tassen (360 ml) Wasser in einem großen Topf zum Kochen bringen. Maniok hineingeben.
Erneut zum Kochen bringen, dann Flamme niedrig stellen. Abgedeckt circa 20 Min. unter gelegentlichem Rühren weich kochen.
Vom Herd nehmen. Margarine oder Öl und Salz hinzufügen. Gut umrühren und 5 bis 10 Min. abkühlen lassen.
Maniokstücke mit einem Pürierstab oder Kartoffelstampfer zu einem größtenteils glatten Stampf verarbeiten. Bei Bedarf nach und nach etwas Wasser zugeben. Die Konsistenz sollte einem dicken, klebrigen Kartoffelbrei ähneln.