This a Japanese-inspired dish I've been making for a long time. I've cooked it for many dinner parties, and it's big hit with my family – and a favorite of many of my recipe testers. The recipe for Orange Tempeh Teriyaki first appeared in my original cookbook of travel-inspired recipes, The Lotus and the Artichoke – Vegan Recipes from World Adventures. When I re-did the cookbook for the WORLD 2.0 edition I upgraded the recipe and reshot the photo, too.
You can make this teriyaki dish with tofu cubes or chopped seitan instead of tempeh – and apple juice also works well in place of orange juice – if you want less citrus flavor. I often amp up the spices and add freshly ground coriander and Szechuan pepper. If you like it spicy, you can also add more chopped fresh, red chillies along with the chopped onions, ginger, and garlic.
As for the origins and early inspiration for my Teriyaki Tempeh, it brings back memories of Japanese meals with my family in Hawai'i at traditional Japanese grill restaurants. I've been to Japan twice, and while I didn't eat a lot of tempeh dishes during those visits, I certainly ate a lot of tempeh during my visits to Malaysia and other places in South East Asia!
Teriyaki Tempeh
Japanese stir-fry with vegetables
serves 3 to 4 / time 60 min
recipe from The Lotus and the Artichoke – WORLD 2.0
(Rezept auf Deutsch unten)
tempeh & marinade:
14 oz (400 g) tempeh cut into small cubes
1 cup (80 g) spring onions chopped
1 in (3 cm) ginger finely chopped
3 cloves garlic finely chopped
1 red chili seeded, sliced optional
2/3 cup (180 ml) water
1/3 cup (80 ml) soy sauce (shoyu)
1/4 cup (60 ml) fresh orange juice
1 Tbs orange zest
3 Tbs rice vinegar
3 Tbs vegetable oil
3 Tbs sugar
1/2 tsp black pepper ground
Combine chopped tempeh cubes and marinade ingredients in a large pot or frying pan. Mix well. Marinate (unheated) for 15–20 min. Mix and turn pieces and marinate another 15–20 min. 
Bring pot (or pan) to low boil. Partially cover and simmer on low heat about 10 min. Stir and turn pieces.
Continue to simmer on low, stirring infrequently, until liquid is mostly reduced, another 5–10 min.
Increase heat to medium and fry, stirring regularly, until cubes are browned and scorched, 5–10 min. Turn off heat, cover, and set aside.
stir-fried vegetables:
2 cups (150 g) broccoli chopped in small florets
1 large (120 g) carrot peeled, sliced
1 medium (180 g) red pepper chopped
1 Tbs sesame oil
3/4 cup (180 ml) water more as needed
1 Tbs soy sauce (shoyu)
1 Tbs corn starch
3–4 tsp sesame seeds roasted, for garnish
Heat sesame oil in large pot or wok on medium high heat. 
Add chopped broccoli, carrots, and red pepper. Stir fry until vegetables start to soften, 4–6 min.
Add cooked, marinated tempeh to pot or wok of frying vegetables. Mix well. Fry 2–3 min, stirring regularly.
Whisk water, soy sauce, and corn starch in a bowl or measuring cup. Slowly pour mixture into frying vegetables and tempeh cubes, stirring constantly.
Simmer on medium heat, stirring constantly, until sauce has thickened, 3–5 min. Remove from heat.
Garnish with sesame seeds. Serve with short-grain brown rice or sushi rice.
Variations:
No Tempeh: Substitute chopped seitan or tofu cubes for tempeh.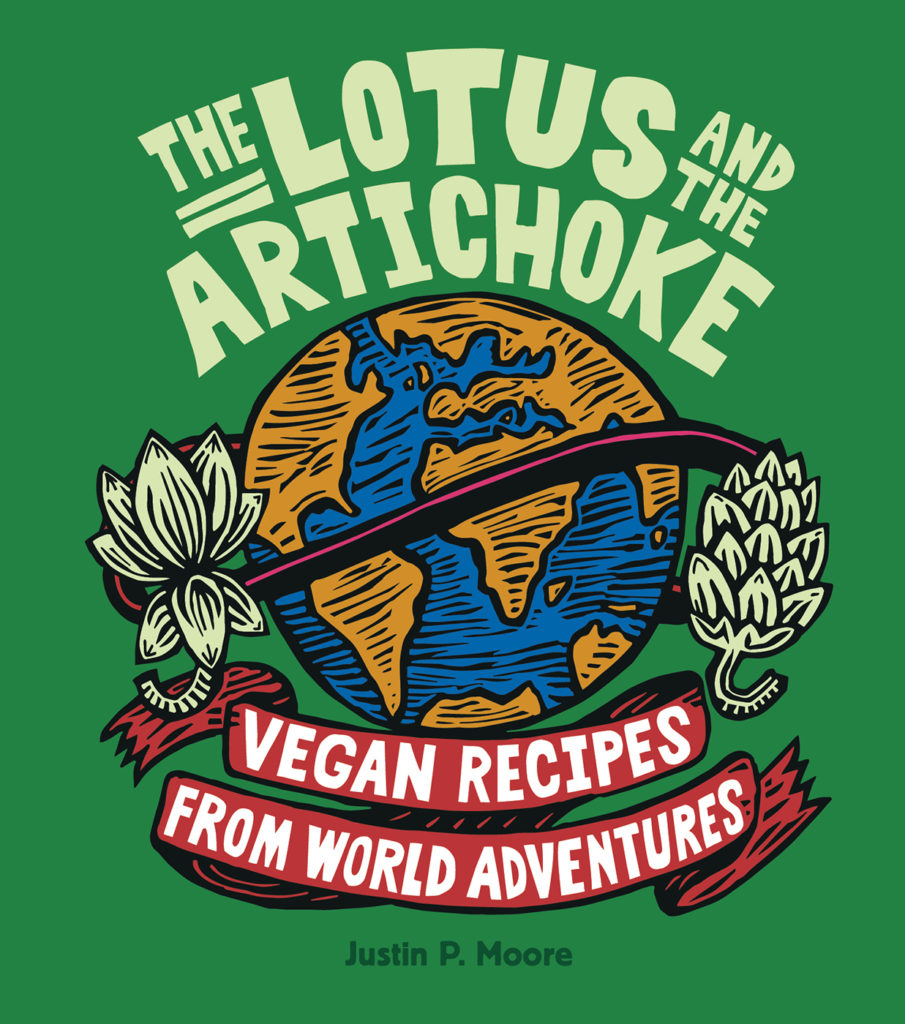 Teriyaki Tempeh
Japanisches Wokgericht mit Gemüse
3 bis 4 Portionen / Dauer 60 Min.
Rezept aus The Lotus and the Artichoke – WORLD 2.0
Tempeh & Marinade:
400 g Tempeh gewürfelt
1 Tasse (80 g) Frühlingszwiebel gehackt
3 cm Ingwer fein gehackt
3 Knoblauchzehen fein gehackt
1 rote Chilischote gehackt wenn gewünscht
2/3 Tasse (180 ml) Wasser
1/3 Tasse (80 ml) Sojasoße (Shoyu)
1/4 Tasse (60 ml) frischer Orangensaft
1 EL Orangenabrieb
3 EL Reisessig
3 EL Pflanzenöl
3 EL Zucker
1/2 TL schwarzer Pfeffer gemahlen
Tempehwürfel und Marinade-Zutaten in einem großen Topf oder einer Pfanne gut vermischen. 15 bis 20 Min. marinieren (nicht erhitzen). Tempeh wenden und weitere 15 bis 20 Min. marinieren. 
Auf niedriger Flamme zum Köcheln bringen, halb abdecken und circa 10 Min. auf niedriger Flamme köcheln. Tempehwürfel wenden, umrühren und weitere 5 bis 10 Min. köcheln, bis die Flüssigkeit größtenteils eingekocht ist.
Hitze erhöhen und Tempeh 5 bis 10 Min. schmoren, bis die Würfel gut gebräunt sind. Flamme abstellen, abdecken und beiseite stellen.
Gemüse:
2 Tassen (150 g) Brokkoli in kleine Röschen geschnitten
1 große (120 g) Möhre geschält, gehackt
1 mittelgroße (180 g) rote Paprika gehackt
1 EL Sesamöl
3/4 Tasse (180 ml) Wasser bei Bedarf mehr
1 EL Sojasoße (Shoyu)
1 EL Speisestärke
3–4 TL Sesamsamen geröstet, zum Garnieren
Sesamöl in einem Wok oder großem Topf auf mittlerer Flamme erhitzen.
Brokkoli, Möhre und Paprika hineingeben und 4 bis 6 Min. anbraten, bis das Gemüse weich wird.
Marinierten Tempeh zugeben und gut umrühren. 2 bis 3 Min. unter Rühren braten.
Wasser, Sojasoße und Stärke in einer Schüssel verrühren. Langsam unter Rühren in den Wok zum Gemüse und Tempeh geben.
3 bis 5 Min. auf mittlerer Flamme köcheln, bis die Soße eindickt. Vom Herd nehmen.
Mit Sesamsamen garnieren und mit Naturrundkorn- oder Sushi-Reis servieren
Variationen:
Ohne Tempeh: Statt Tempeh gehackten Seitan oder Tofuwürfel verwenden.