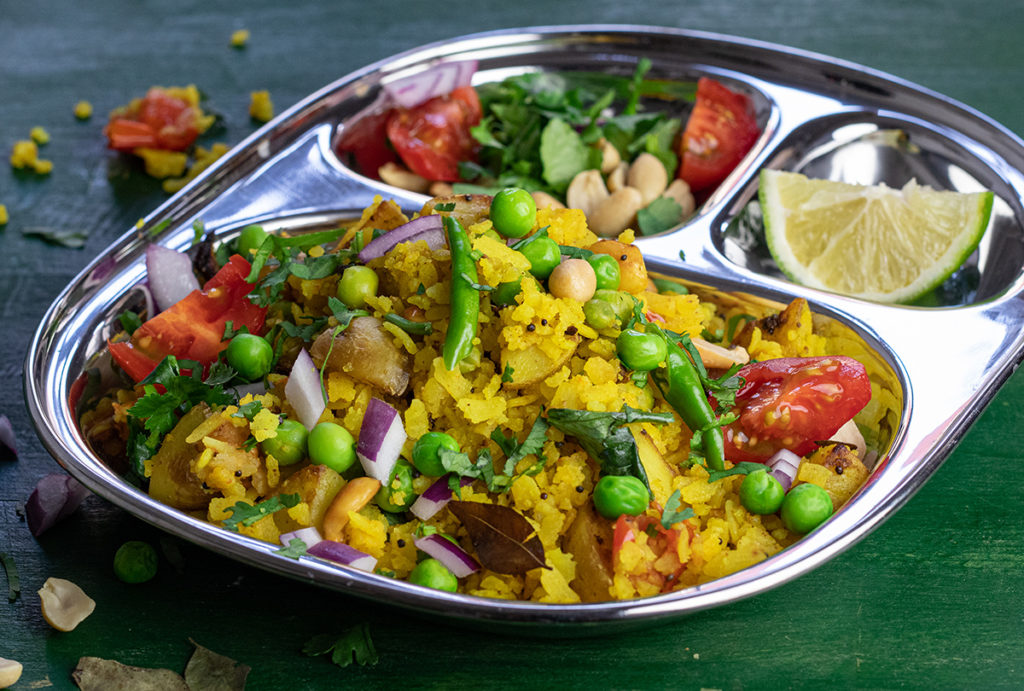 Poha
Indian flattened rice with potatoes & peas
serves 2 to 3 / time 20 min
recipe from The Lotus and the Artichoke – WORLD 2.0
(Rezept auf Deutsch unten)
1 1/2 cups (110 g) poha (flattened rice flakes)
1 1/2 cups (350 ml) water
3 medium (250 g) potatoes peeled, chopped
2 small (100 g) tomatoes chopped
1/2 cup (50 g) peas (fresh or frozen)
1 small (70 g) onion chopped
1/2 in (1 cm) fresh ginger finely chopped
1 green chili seeded, sliced optional
3 Tbs peanuts or cashews lightly roasted
handful fresh coriander chopped, for garnish
2–3 lime slices
2 Tbs vegetable oil
1 tsp black mustard seeds
6–8 curry leaves optional
1 tsp cumin ground
3/4 tsp turmeric ground
1 Tbs lime juice
1 tsp sugar
3/4 tsp sea salt
Cover poha rice flakes with water in a bowl. Soak 2 min and drain excess water. Set aside for now.
Heat oil in a large frying pan or wok on medium high heat. Add mustard seeds. After they start to pop (20–30 sec), add chopped onion, ginger, green chili, and curry leaves (if using), and ground cumin. Fry, stirring often, until richly aromatic and onions are browned, about 2–3 min.
Add chopped potatoes. Continue to cook, stirring often, until potatoes begin to soften, 5–7 min.
Stir in peanuts (or cashews). Continue to cook on medium heat until potatoes are soft, another 3–5 min.
Add soaked poha, peas, and chopped tomatoes, followed by ground turmeric, lime juice, sugar, and salt. Mix well, but gently so rice flakes don't get mushy. Cook 2–3 min, stirring regularly. If needed, add 2–3 Tbs water and cover briefly to steam. Remove from heat. Cover and let sit 5 minutes.
Garnish withchopped fresh coriander. Serve with lime slices.
Variations:
Vedic: Replace onion with 1/4 tsp asafoetida (hing) and 1/4 tsp Garam Masala. Fruity: Add 2 Tbs golden raisins or chopped dates along with tomatoes. Coconut: Add 1–2 Tbs fresh grated coconut along with soaked poha in the last few minutes of cooking.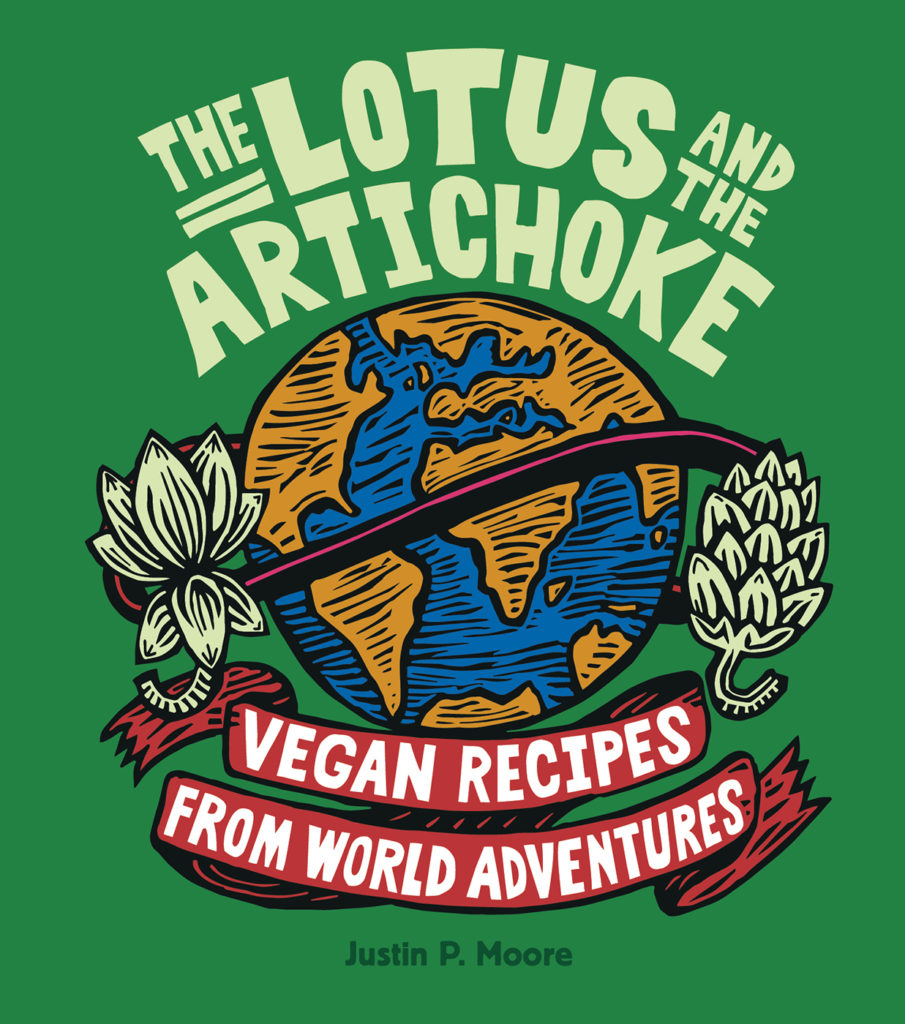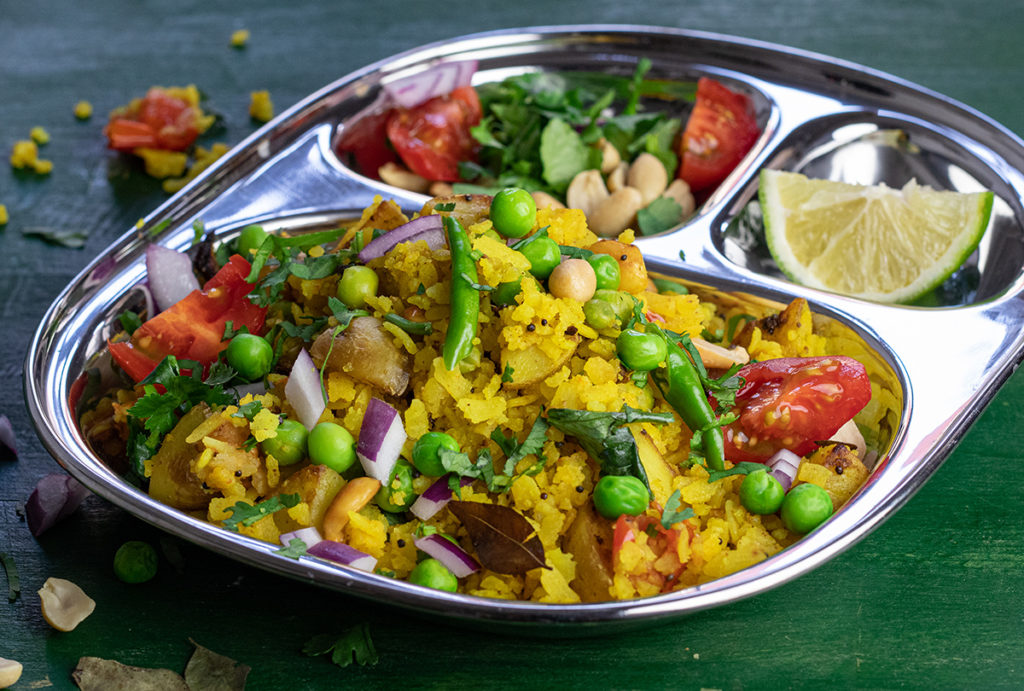 Poha
Indische Reisflocken mit Kartoffeln & Erbsen
2 bis 3 Portionen / Dauer 20 Min.
Rezept aus The Lotus and the Artichoke – WORLD 2.0
1 1/2 Tassen (110 g) Poha (flache Reisflocken)
1 1/2 Tassen (350 ml) Wasser
3 mittelgroße (250 g) Kartoffeln geschält, gehackt
2 kleine (100 g) Tomaten gehackt
1/2 Tasse (50 g) Erbsen (frisch oder gefroren)
1 kleine (70 g) Zwiebel gehackt
1 cm frischer Ingwer fein gehackt
1 grüne Chilischote gehackt wenn gewünscht
3 EL Erdnüsse oder Cashewkerne leicht geröstet
1 Handvoll frisches Koriandergrün gehackt
2–3 Limettenspalten
2 EL Pflanzenöl
1 TL schwarze Senfsamen
6–8 Curryblätter wenn gewünscht
1 TL Kreuzkümmel gemahlen
3/4 TL Kurkuma gemahlen
1 EL Limettensaft
1 TL Zucker
3/4 TL Salz
Poha-Flocken 2 Min. einer Schüssel mit Wasser einweichen. Abgießen, Einweichwasser wegschütten und beiseite stellen.
Öl in einer großen Pfanne oder einem Wok auf mittlerer Flamme erhitzen. Senfsamen hineingeben. Nach deren Aufplatzen (20 bis 30 Sek.) Zwiebel, Ingwer, Chilischote und Curryblätter (falls verwendet) sowie Kreuzkümmel hineingeben.
2 bis 3 Min. unter häufigem Rühren anschwitzen, bis es aromatisch duftet und die Zwiebel gebräunt ist.
Kartoffeln hinzufügen. 5 bis 7 Min. unter häufigem Rühren braten, bis die Kartoffeln weich werden.
Erdnüsse oder Cashewkerne einrühren. Weitere 3 bis 5 Min. auf mittlerer Flamme braten, bis die Kartoffeln richtig durch sind.
Eingeweichte Poha-Flocken, Erbsen und Tomaten hinzufügen. Gleich danach Kurkuma, Limettensaft, Zucker und Salz einrühren. Beim Umrühren darauf achten, dass die Reisflocken nicht breiig werden. 2 bis 3 weitere Min. unter Rühren braten. Bei Bedarf 2 bis 3 EL Wasser einrühren und Poha kurz abgedeckt etwas dämpfen. Vom Herd nehmen, abdecken und 5 Min. durchziehen lassen.
Mit frischem gehacktem Koriandergrün garnieren und mit Limettenspalten servieren.
Variationen:
Vedisch: Zwiebel mit 1/4 TL Asafoetida (Asant) und 1/4 TL Garam Masala ersetzen. Fruchtig: 2 EL Sultaninen oder gehackte Datteln zusammen mit den Tomaten zugeben. Kokos: In den letzten Kochminuten 1 bis 2 EL frische Kokosraspel unterrühren.