Watalappam is a traditional coconut dessert enjoyed in Sri Lanka.
This luscious custard is spiced-up with cinnamon, cloves, and cardamom, often with a hint of vanilla, and a smattering of nuts or dried fruits. The taste reminds me of a spicy, aromatic Indian cup of chai. But cold, coconutty, and soft! As with all recipes, everyone has their very own version. The Tamils make it different than the Singhalese, and the Muslims have another delightful variation.
I invented a vegan version of the coconut custard, and I added some variations of my own– including fresh (or frozen) berries. I often top it with dark, rich, sweet coconut blossom syrup (AKA palm syrup) which is extremely popular in Sri Lanka – and recently gaining popularity in Europe and the Americas. Sometimes I top the custard with blackstrap molasses or dark agave syrup, or some fresh fruit and nuts and maybe a bit of homemade fruit syrup, like I do with my vanilla muffins (also in The Lotus and the Artichoke – SRI LANKA cookbook.)
There's actually a good story with the first time I had Watalappam in Sri Lanka. It highlights the need to stay cool, and remember that how we react in unexpected situations always influences how others perceive not just us as people, but whatever groups of people with whom we are associated – as foreign tourists, guests, citizens of particular countries, …and as vegetarians and vegans. In my travels, I try to be modest and respectful, and traveling vegan certainly comes with challenges here and there. Usually it's much easier than others imagine, but I guess experience, a fair amount of luck and communication are all important factors.
One night I was invited to dinner at home with a Sri Lankan family in the small, charming town of Midigama.
Midigama is on the south west coast of Sri Lanka, and known for several great surfing spots, and I wanted to check it out. Sharani and her husband, a local tuk-tuk driver, lived with their two small children – and a funny green parrot that could talk – on a narrow, unpaved road a few minutes walk from the beach. She cooked for the better part of an afternoon, and by time dinner was ready, we were super hungry and totally curious what kind of deliciousness awaited us. Everything smelled fantastic! And then dinner was served: 5 Sri Lankan curries… including stir-fried Bonchi (green beans), spicy sautéed Brinjal (eggplant/aubergine), Carrot Curry, Dal (lentil) Curry, Soymeats Curry, and of course papadam, rice, and a simple salad of cucumbers and tomatoes.
After we finished eating, Sharani asked, "Do you like Watalappam? Sweets? Want to try?"
I was immediately curious, and asked her to describe it. "Made with coconut. Like a pudding. But very special flavors!" I tried once more, politely, to find out how it was made. "With eggs? Milk?" "No, no. Coconut!" "Butter?" "No, no. Coconut. And sugar! Palm syrup." At this, she slid her chair back from the table, dashed to the kitchen, and returned with a chilled tray covered with plastic foil, which she was peeling back as she walked.
"Watalappan! Coconut pudding!" she said, and scooped out a few spoonfuls into little bowls. She passed one to me, along with a small, shiny spoon. Whoa! It smelled good, and certainly looked intriguing. I repeated, "No milk inside? No eggs?" Again, she shook her head, smiling, anxiously waiting for me to try her homemade custard. So I took a bite. And then another. I admit, it was tasty. The aromatic spices and tropical sweetness combined with the rich, fresh coconut flavor were an excellent combination. But I was already quite full from the five curries and all. I politely declined any more of the luscious sweet. On the walk home, I played back the taste in my mind and thought about what could be in it. Was it really vegan? Maybe, but probably not. At another family dinner later in the trip, Watalappam was offered to me, and at a restaurant once or twice, I saw it on the menu. But both times I was told it was made with eggs, so I didn't taste it. Instead, I took a good look and smelled the spices, and took some notes, as I often do.
Two months later, back in Berlin, when I started intensively researching existing Sri Lankan recipes, and scouring the many international vegetarian and vegan cookbooks I have, I quickly determined that traditional watalappan is always made with eggs! And often with milk! I didn't find a single recipe that was vegan. So I set out to create one. I did a few experiments, and refined and improved the recipe to be as it is now.
It's the perfect sweet ending to a Sri Lankan Rice & Curry dinner, and I've made it many times for dinner parties – for large groups and just for the family. One thing to keep in mind: make it in the morning or afternoon so it has time to chill in the fridge, if you want to have it with dinner!
Watalappam
Sri Lankan spiced coconut custard pudding
serves 4 to 6 / time 40 min +
recipe from The Lotus and the Artichoke – SRI LANKA
(Rezept auf Deutsch unten)
1 1/2 cups (360 ml) coconut milk
1/4 cup (50 g) sugar
1 Tbs corn starch
1 tsp agar powder or 2 tsp agar flakes
1/4 cup (60 ml) water
1/2 tsp vanilla bean ground or 1 tsp vanilla extract
1/2 tsp cinnamon ground
1/2 tsp nutmeg ground
1/4 tsp (about 6 pods) cardamom ground
1/8 tsp (about 5 pieces) cloves ground
2 Tbs cashews lightly roasted, crumbled for garnish
palm syrup or agave syrup
Bring coconut milk to low boil in medium pot on medium heat. Stir in sugar.
Whisk corn starch and agar powder (or flakes) into 1/4 cup (60 ml) water in small bowl. Stir into simmering coconut milk. Return to simmer. Reduce heat to low. Cook 5 min, stirring regularly.
Stir in ground vanilla, cinnamon, nutmeg, cardamom, cloves. Continue to cook, stirring constantly, until thickened, 3–5 min. Remove from heat.
Fill 4 to 6 small bowls with custard mix. Let cool 20 min. Transfer to refrigerator and chill for 6 hours or overnight.
Remove chilled bowls from fridge and loosen around the custard with a knife. Carefully turn bowl upside down on plate and hit it gently on top a few times. Lift bowl to see that custard has been released. If not, poke it a few times with knife.
Drizzle with syrup and garnish with crumbled, roasted cashews and/or chopped fruit and berries.
Variations:
No Coco: Replace coconut milk with soy, oat, or almond milk.
This recipe is from my third vegan cookbook, The Lotus and the Artichoke – SRI LANKA: A Culinary Adventure with over 70 vegan recipes. Available in English, German, and also as an e-book!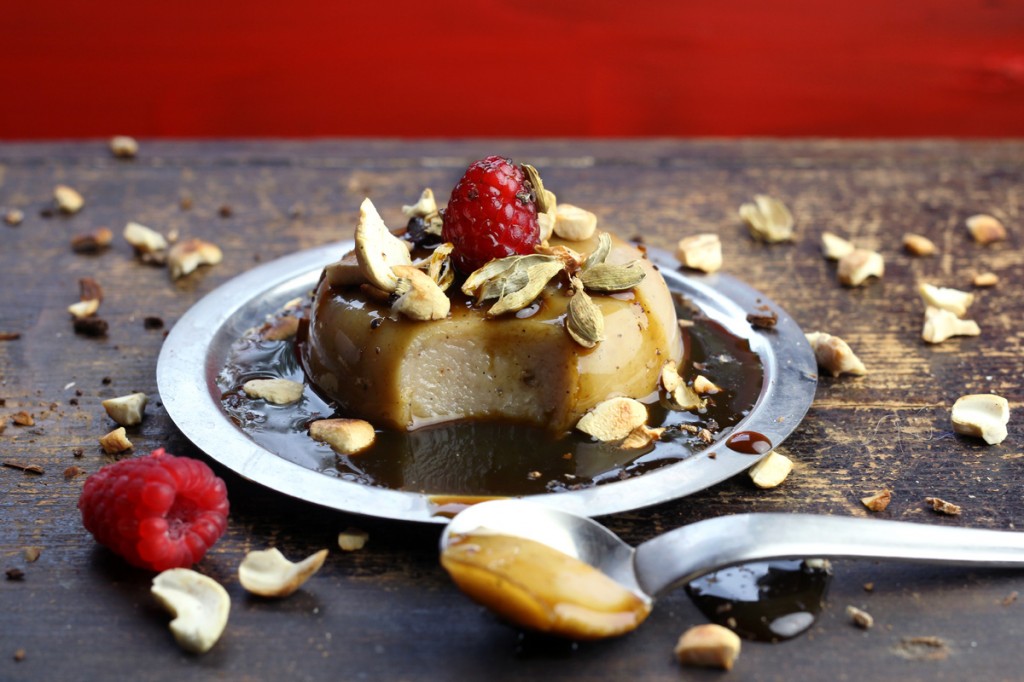 Watalappam
traditioneller Kokospudding aus Sri Lanka
4 bis 6 Portionen / Dauer 40 Min. +
1 1/2 Tasse (360 ml) Kokosmilch
1/4 Tasse (50 g) Zucker
1 EL Speisestärke
1 TL Agar-Agar-Pulver oder 2 TL Agar-Agar-Flocken
1/4 Tasse (60 ml) Wasser
1/2 TL Vanillemark oder 1 TL Vanillezucker
1/2 TL Zimt gemahlen
1/2 TL Muskat gemahlen
1/4 TL (ca. 6 Kapseln) Kardamom gemahlen
1/8 TL (ca. 5 Stück) Nelken gemahlen
2 EL Cashewkerne leicht geröstet, gehackt
Kokosblütensirup oder Agavensirup
In einem mittelgroßen Topf Kokosmilch auf mittlerer Flamme zum Kochen bringen. Zucker einrühren.
In einer kleinen Schüssel Speisestärke und Agar Agar mit 1/4 Tasse (60 ml) Wasser verquirlen. In die köchelnde Kokosmilch einrühren. Erneut zum Kochen bringen. Flamme niedrig stellen und 5 Min. unter Rühren köcheln lassen.
Vanille, Zimt, Muskat, Kardamom und Nelken einrühren. 3 bis 5 Min. weiter köcheln, bis der Pudding eindickt. Vom Herd nehmen.
Pudding in 4 bis 6 kleine Schüsseln füllen und 20 Min. abkühlen lassen. In den Kühlschrank stellen und 6 Stunden oder über Nacht durchziehen lassen.
Kalte Schüsseln aus dem Kühlschrank nehmen und den Pudding am Schüsselrand vorsichtig mit einem Messer lösen. Schüsseln auf Teller stürzen und leicht auf den Schüsselboden klopfen. Schüsseln anheben und nachschauen, ob der Pudding gestürzt ist. Falls nicht, vorsichtig mit einem Messer herauslösen.
Mit Sirup beträufeln und mit gehackten gerösteten Cashewkernen und geschnittenen Früchten und Beeren garnieren.
Variationen:
Ohne Kokosmilch: Kokosmilch mit Soja-, Hafer oder Mandelmilch ersetzen.
Dieses Rezept stammt aus meinem 3. veganen Kochbuch The Lotus and the Artichoke – SRI LANKA: Eine kulinarische Entdeckungsreise mit über 70 veganen Rezepten